When a chargeback occurs, it's important to act quickly. Check out the details and tips outlined in this article to help you manage chargebacks, using NuORDER Payments.
Note: If you're using Lightspeed Payments, the Lightspeed Team will reach out to you. If you see a chargeback before their outreach, contact heroes@nuorder.com.
Things to keep in mind
Too many chargebacks can have disastrous impacts to your business.
Buyers can dispute charges if they feel the terms of the agreement for payment were not met. Unlike a refund, which is resolved between buyer and seller, in a chargeback, the buyer contacts their card-issuing bank.
Chargebacks may also occur if you enter a credit card on behalf of a buyer. To protect yourself, make sure you obtain written permission from the cardholder before adding their card into NuORDER.
Chargebacks will always be decided by a cardholder's bank. NuORDER is not able to influence or revert this decision. If a chargeback is lost (e.g. you don't dispute a chargeback or it's resolved in the buyer's favor), the fee is $35.00 (if the transaction is done through NuORDER Payments) and $15.00 (if it's done through Lightspeed Payments). Some banks may also charge an additional penalty fee; contact your bank to learn more.
Responding to a dispute
When a chargeback occurs, the most important thing is to act quickly.
Most chargebacks in wholesale are made in error, so contacting the buyer to see if they can drop the chargeback and accept a refund is the best and most common course of action (as a reminder, a NuORDER Payments refund fee is only $0.30. There is no refund fee if the transaction is through Lightspeed Payments).
Sometime a chargeback can't be drop after it's initiated. If the buyer can't drop the chargeback, contact the NuORDER Support team at heroes@nuorder.com to submit any supporting evidence and materials.
Note: Although we cannot affect the outcome of the chargeback, we want to make sure these end in your favor.
Review chargebacks
From the left navigation menu, go to Payments > Chargebacks and Reversals.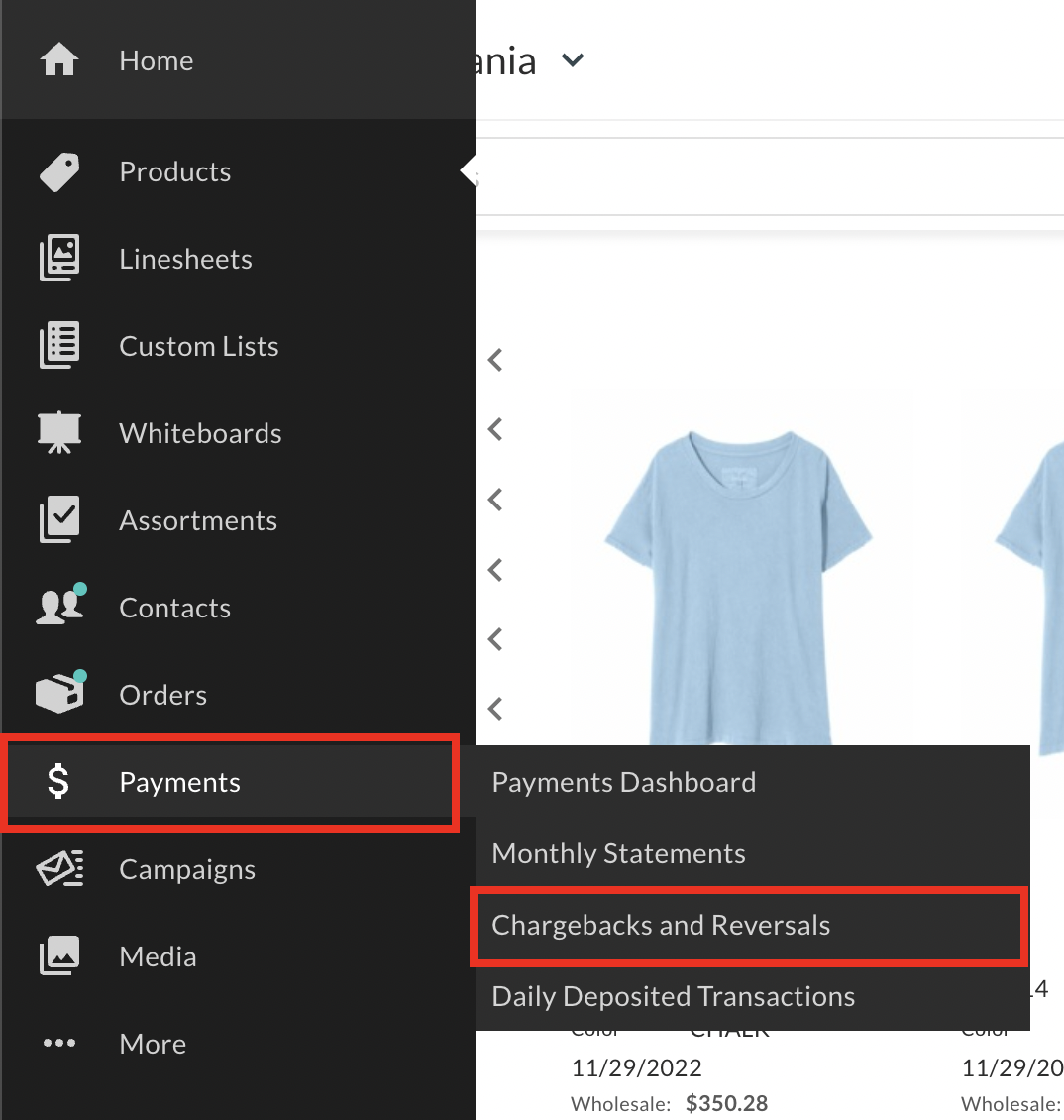 Chargebacks and Reversals are divided into Active Disputes (ongoing) and Resolved Disputes.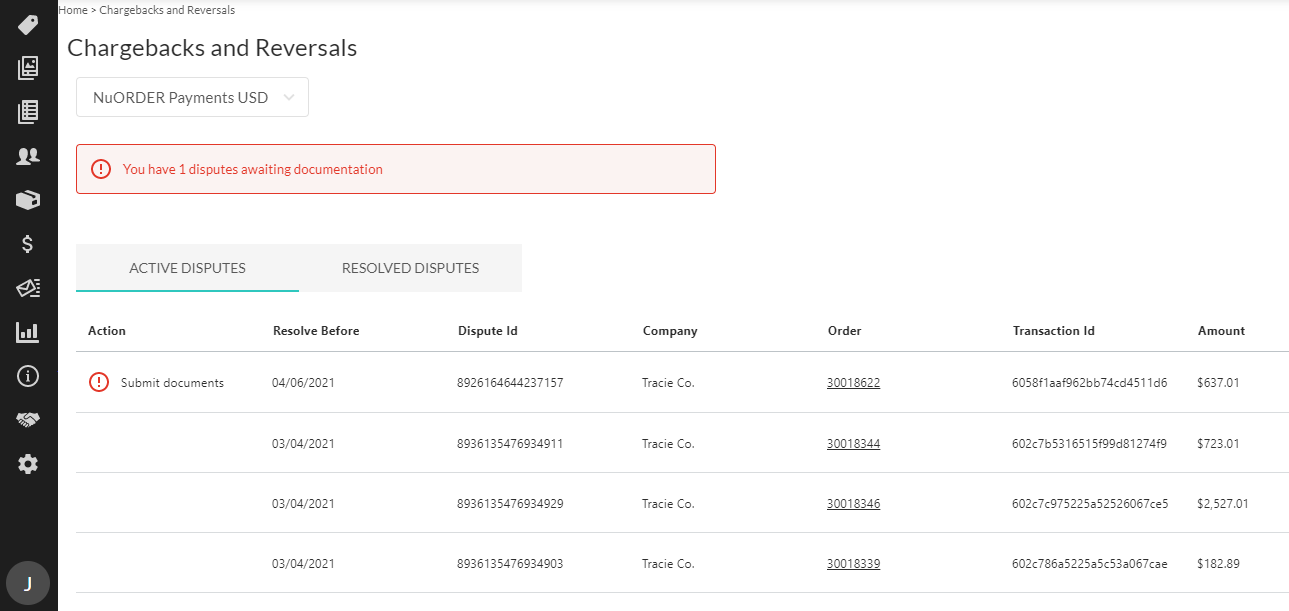 Active Disputes displays all disputes currently pending action, while Resolved Disputes displays all disputes that were previously resolved. Both tabs display the following information:
Information
Description
Action
For active disputes, use this section to upload and submit evidence to respond to a dispute. After you submit evidence as a response, the bank will go into arbitration and make a judgment.

For resolved disputes, you can see a record of the action previously taken and the resolution.
Resolve before
The listed date is how much time you have remaining to respond to an active dispute.
Dispute ID
A unique ID number attached to the dispute itself.
Company
The name of the company that submitted the chargeback.
Order
The order number associated with the dispute.
Transaction ID
The ID associated with the original transaction (e.g. capture).
Amount
The amount of money being disputed in the chargeback.