My Drive is your personal workspace. Any assortments or folders you create here will not be visible to anyone else unless you decide to share them.
My Drive is ideal for testing and training, so those test assortments don't get mixed up with real buys you are planning. Additionally, if you have assortment you are using as templates with your own preferred saved views, My Drive is a great place to store them privately, separate from your team's shared documents where many people may have access to make edits. 

Your list of assortments and folders in My Drive will be sorted alphabetically by default, with all folders listed first. You can also sort by how recently a file has been created or updated by clicking the column header—click once for ascending, click a second time for descending, and click a third time to return to the default. 
Create an Assortment

To create a new assortment in My Drive:
Click

New > Assortment

Select the type (Multi Brand or Single Brand) and settings for your assortment.

When you create a Single Brand assortment, it will be listed as "Assortment (Single Brand)" in the Type column of the Drive.

When you create a Multi Brand assortment, it will be listed as "Assortment (Multi Brand)" in the Type column of the Drive.

The assortment will open automatically in a new browser tab.
Create a Folder 

To create a new folder in My Drive:
Click

New > Folder.
Enter a name for your folder. 



Folder names can include letters, numbers, spaces, and characters & + ' - _ 

Additional special characters are not supported at this time.

Click Create.

The folder will be added to your list of contents.

Double click on the folder to open it.
You can repeat the above steps within a folder to create sub-folders.
Add assortments or rollups to a folder
There are two ways to add assortments and rollups to a folder in My Drive.
If the folder and items are all within the same Drive list view, the easiest way to move items into a folder is to select one or more checkboxes next to the assortments or rollups you want to move, then drag and drop them into the desired folder.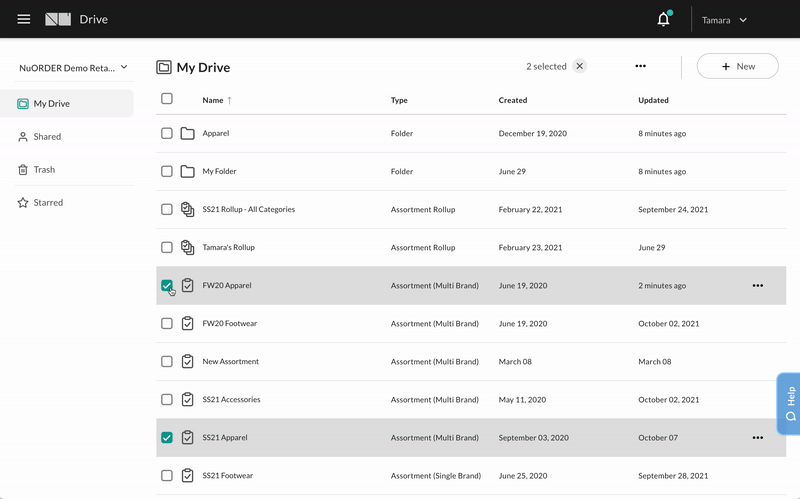 You can also select the checkboxes next to the assortment or rollups you want to move, then select the kabob menu in the upper-right corner, select Move, then choose the folder you want. Use this method if you are moving items into a folder that is not in the current list view.
Shared items
You can view items shared with you, including folders, assortments, and rollups by selecting Shared in the left menu.
You'll see the item name, who shared it, the item type (folder, assortment, rollup), the merchant name, the date it was created, the most recent date it was updated, and your permission level for the item (Organizer, File organizer, Writer, Reader).
Need to see items specific to a merchant? Select the merchant dropdown in the upper-right corner and choose the merchant you'd like to view items for.