| | |
| --- | --- |
| Use 3D images to show off your products with computer-generated renderings that customers can zoom in and out of, as well as rotate. 3D images also remove the need to create a physical sample or prototype ahead of assessing the product's demand. | |
Requirements
Before uploading 3D images, make sure the file type (.GLB or .gITF) and other requirements are met by reviewing Image guidelines. Adhering to those guidelines helps ensure a successful upload of 3D images.
Exporting 3D images
3D files must be uploaded as a .GLB or .glTF file. Depending on the tool you use to create 3D files, there are certain steps you must follow to acquire the right file type.
CLO
To export a .glTF file from CLO:
Open the Main Menu, select File, followed by Import/Export, then glTF 2.0 (GLTF/GLB).
Select the menu/tool indicated in Location within CLO.
In the Save File window that appears, select the location path you'd like to save the file to and click Save.
Configure any necessary settings to make sure your file matches the 3D file requirements for NuORDER then click OK.
For additional support, view CLO's support article on exporting .glTF files.
Browzwear
To export a garment as a 3D object from Browzwear:
Open the Main Menu, click File, then Export.
In the file explorer window that appears, navigate to the location you want to save the 3D file.
A file name will be suggested automatically when you select a location. Change the name at this stage if you prefer a different name.
In the
Save as type
section, select the file format you want to use from the drop-down list (e.g. .glTF).
Click
Save
and the
Export 3D Object
dialog box will appear.
Next, edit the export settings for your file to ensure it matches the 3D file requirements for NuORDER.
Click
Export
and your garment will be exported as a 3D object.
For additional support, view Browzwear's support article on exporting 3D files.
Upload 3D images individually
From the Product Gallery, select a product to open the Product Details. Select the ellipse icon in the lower-right corner of the product image and choose Upload 3D images.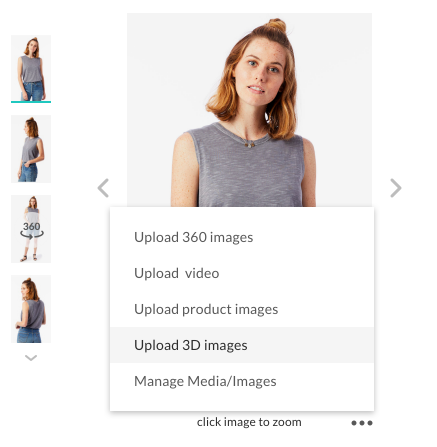 Drag and drop the 3D image file into the window, wait for the upload to finish, and then click Save.
Upload 3D images in bulk
With all bulk uploads, we recommend first uploading product data for that image set, as this can help ensure that images are attributed to the right products. Additionally, make sure your images are named according to the naming convention you've set up in your account to ensure that files automatically link to the right product.
When you're ready to upload, go to Settings > Brand Admin > Imagery & Media > Product Images. The Product Image Upload page includes reminds about the requirements.
Drag and drop the 3D image files from your computer to the Drag you files here section.
NuORDER displays messages for successfully matched files, as well as which files ran into an issue and why.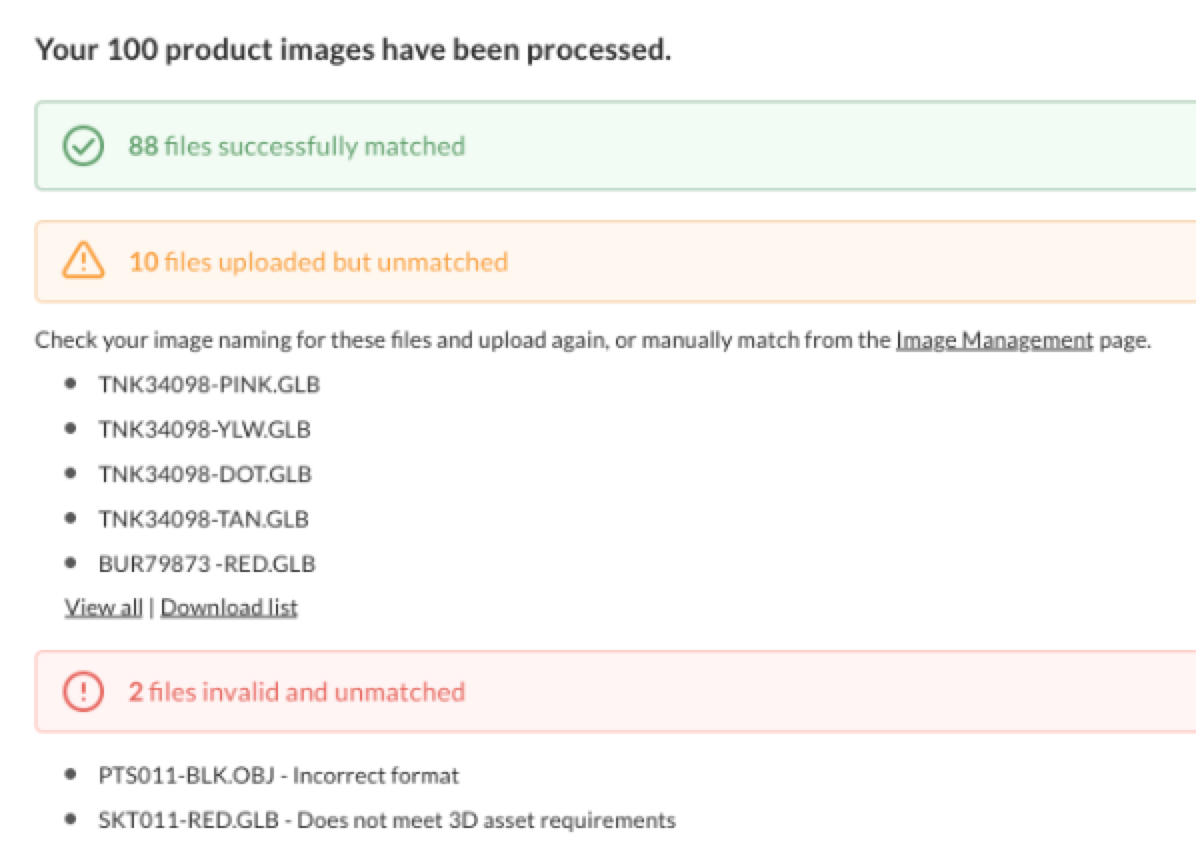 Note: You can also add 3D images in NuORDER in bulk through a Dropbox integration or FTP in batches of up to 500 3D models. If you upload via these methods, you'll receive a success or error email as an alert for when you can send the next batch.