Ensure uploaded images adhere to the following requirements.
Considerations
Keep buyers engaged by showcasing your products with a variety of media types (standard images, 3D images, 360 views, and videos).
Before you upload images, you must set up an image naming convention, so those images (and other media) link to the correct product.
Review the Where product images appear section of this article for examples.
You can store up to 100 media items for each product.
NuORDER dynamically sizes media, based on the width settings for the widget.

When media is displayed in full size, the dimensions are 700px (width) by 1100px (height), but this isn't a requirement.
Standard images
Display product images that highlight key angles and features of the product (examples: front, back, close ups, etc.).
File type must be JPG or PNG.
Resolution must be 72dpi.
Images must be a minimum of 500 x 500 pixels. We recommend the image be at least 2000 pixels (width) at the longest edge to allow for larger image size when zooming.
Must be saved in RGB color space.
Images should be compressed to be in the 500kb - 1.5mb range.
3D images
Use 3D images to show off your products with computer-generated renderings that customers can zoom in and out of, as well as rotate. Learn how to upload 3D images with 3D images.
File type must be GLB or glTF.
Maximum of 40mb with textures included.
Up to 500,000 polygons in a single file.
The texture size can be up to 2k for optimized files and up to 4k for original files.
For 3D files to perform optimally, we recommend only uploading mid-poly or low-poly baked files.
360 images
Showcase a product with a 360° degree view.
File type must be JPG.
Resolution must be 72dpi.
Must be saved in RGB color space.
NuORDER supports 4 or more frames per 360 spin and we recommend 24 or 36 frames per 360. The greater number of frames, the smoother the rotation will appear, but keep in mind that at this resolution, small imperfections are also amplified.
Rotations should be shot clockwise.
We recommend setting images to at least 2000 pixels (width) at the longest edge to allow for larger image size when zooming.
Each image should be compressed to be in the 100kb - 1.5mb range.
Brands are encouraged to follow their current image naming convention. In the case of 360 images, the NuORDER automated image mapping will be looking for the suffix _360 to specify a 360 image and _##, which represents the order the image should appear in the 360 view.
Videos
Offer videos to highlight key features, tell a story, or otherwise market your product.
File type must be MOV or MP4.
NuORDER recommends recording video in HD 1080p.
Videos will be transcoded to 720p after uploading.
Supported ratios include 16:9 / 9:16, 2:3 / 3:2 and 4:3 / 3:4.
A video file can be up to 1GB in size.
There isn't a minimum required length. Videos can be up to 20 minutes in duration; however, we recommend:
Video type
Recommended length
Simple
20 seconds
Explainer
2 minutes
Long form
6 to 12 minutes.

Note: We find that the drop off rate stays consistent from 6 to 12 minutes, then increases after 12 minutes.
Saving for the web in Photoshop
Chances are you're already using Adobe Photoshop to prep your product images.
The Save for Web feature is one of the best ways to achieve good image compression while maintaining quality. We've highlighted a few important factors to help you get best results.
Set the file type to JPEG.
Adjust the Quality range to affect the file size. Make adjustments until final file size falls within our ideal range 500kb - 1.5mb (Recommended Quality: 60 - 80).
Set JPEG type to be Optimized
Make sure your image is formatted as RGB. Converting to sRGB can sometimes bring the file size down, but it can also dull colors a bit.
Verify the size is at least 500 by 500 pixels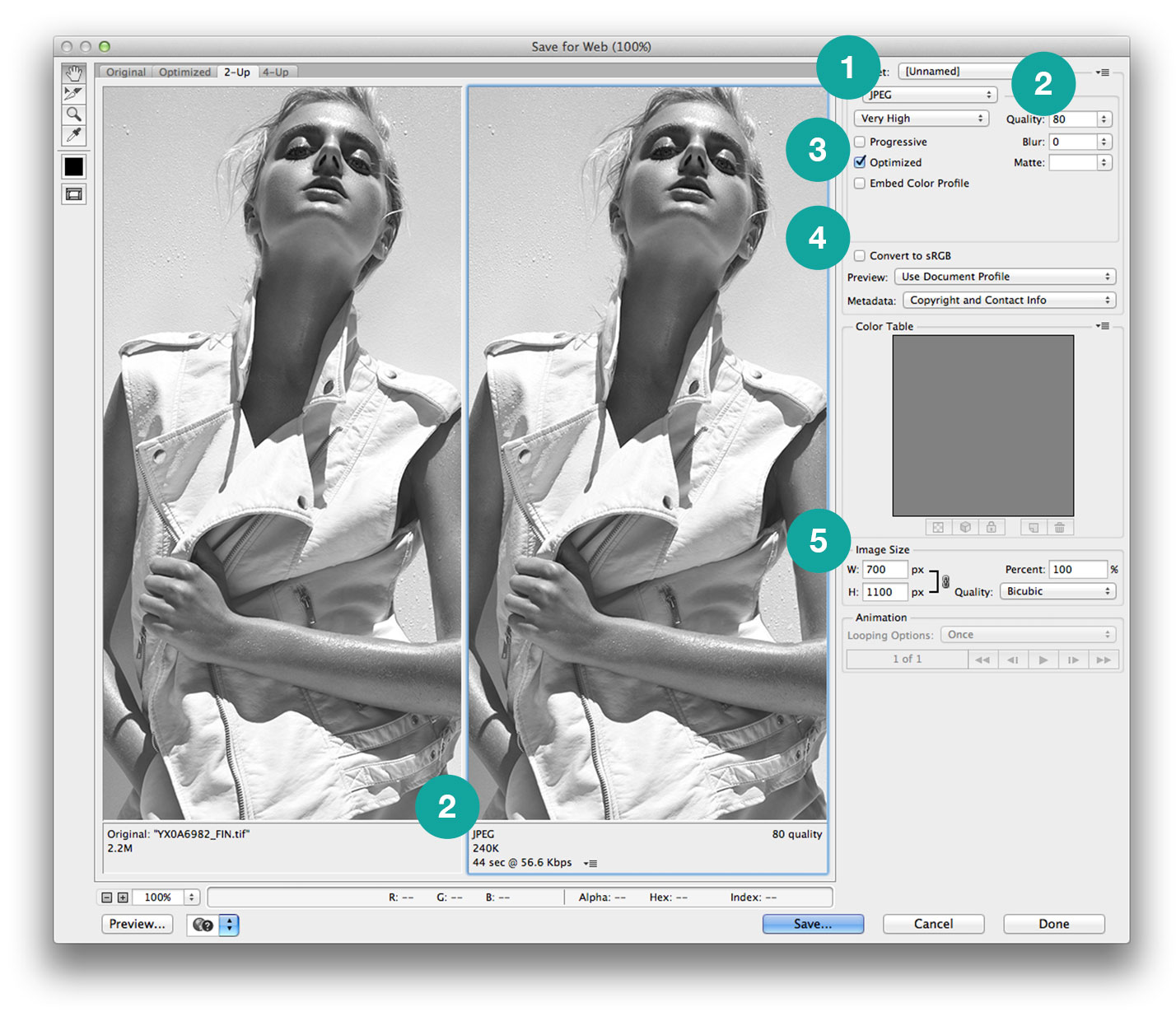 Tip: If you have a lot of images that need to get compressed and can't take the time to save individually, look into creating an action to convert them all as a batch.
Where product images appear
We currently support a maximum of 100 images per product. Knowing the types, and where they appear throughout NuORDER, will help you better decide which ones to use where.
| | |
| --- | --- |
| | The first image is the hero image and it displays in all galleries as the thumbnail image, in Product Details, the Working Order, and PDFs. |
| | The second image displays in Product Details, and it's the second image for products in a Linesheet. If more than one image is uploaded, hover over a product card in the Product Gallery to see the second image. |
| | The third+ image displays in Product Details only. |
Product Details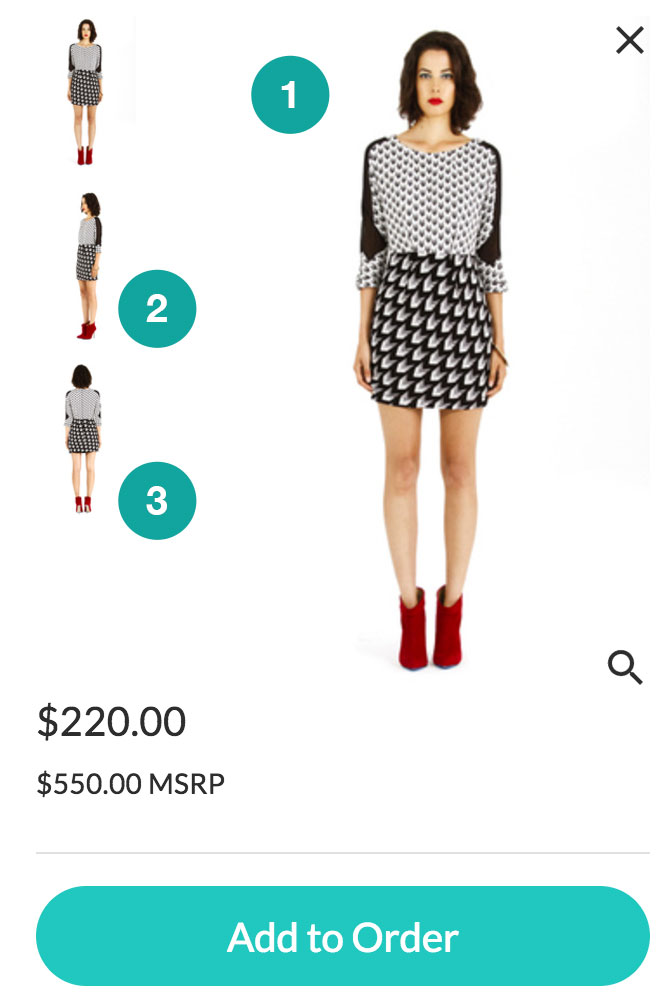 Linesheets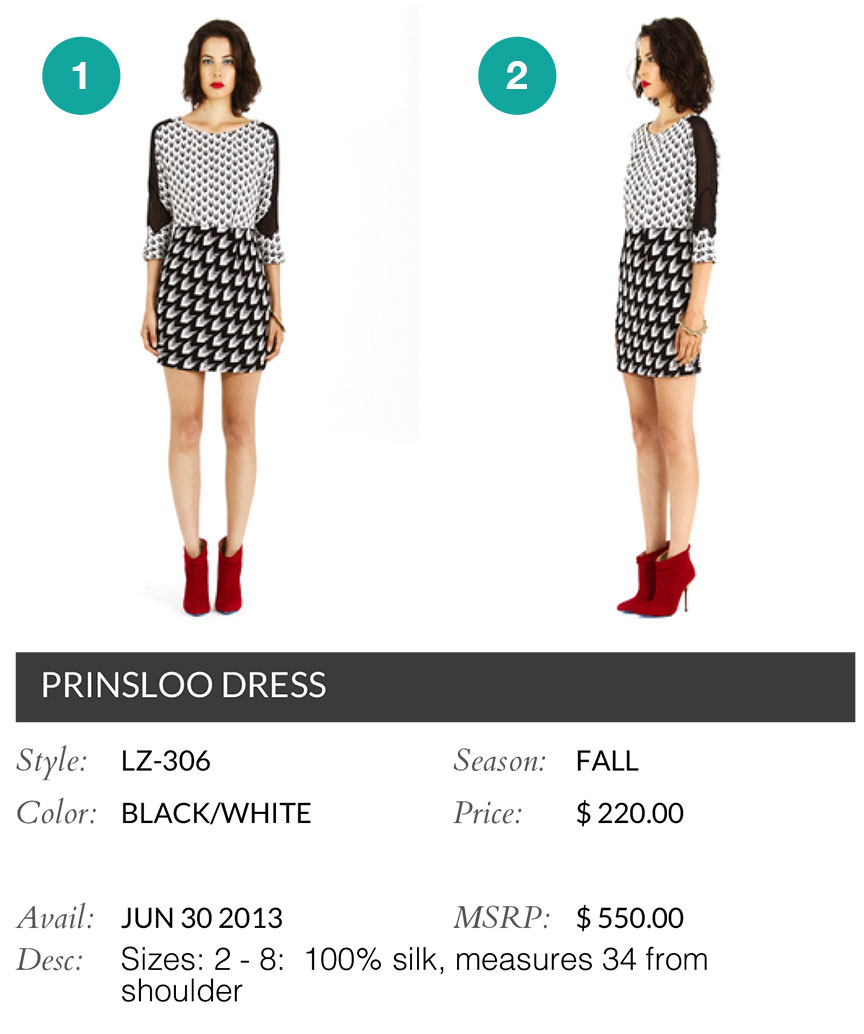 Orders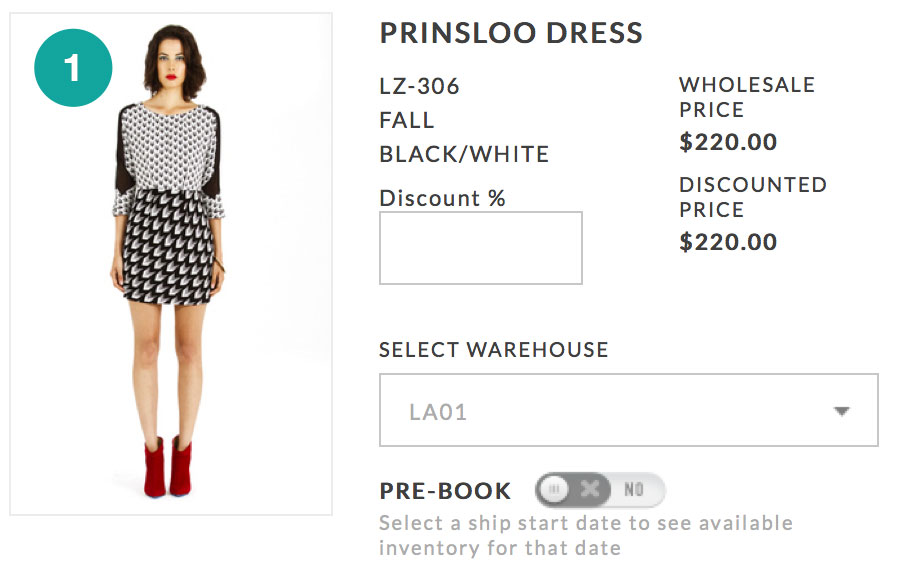 Galleries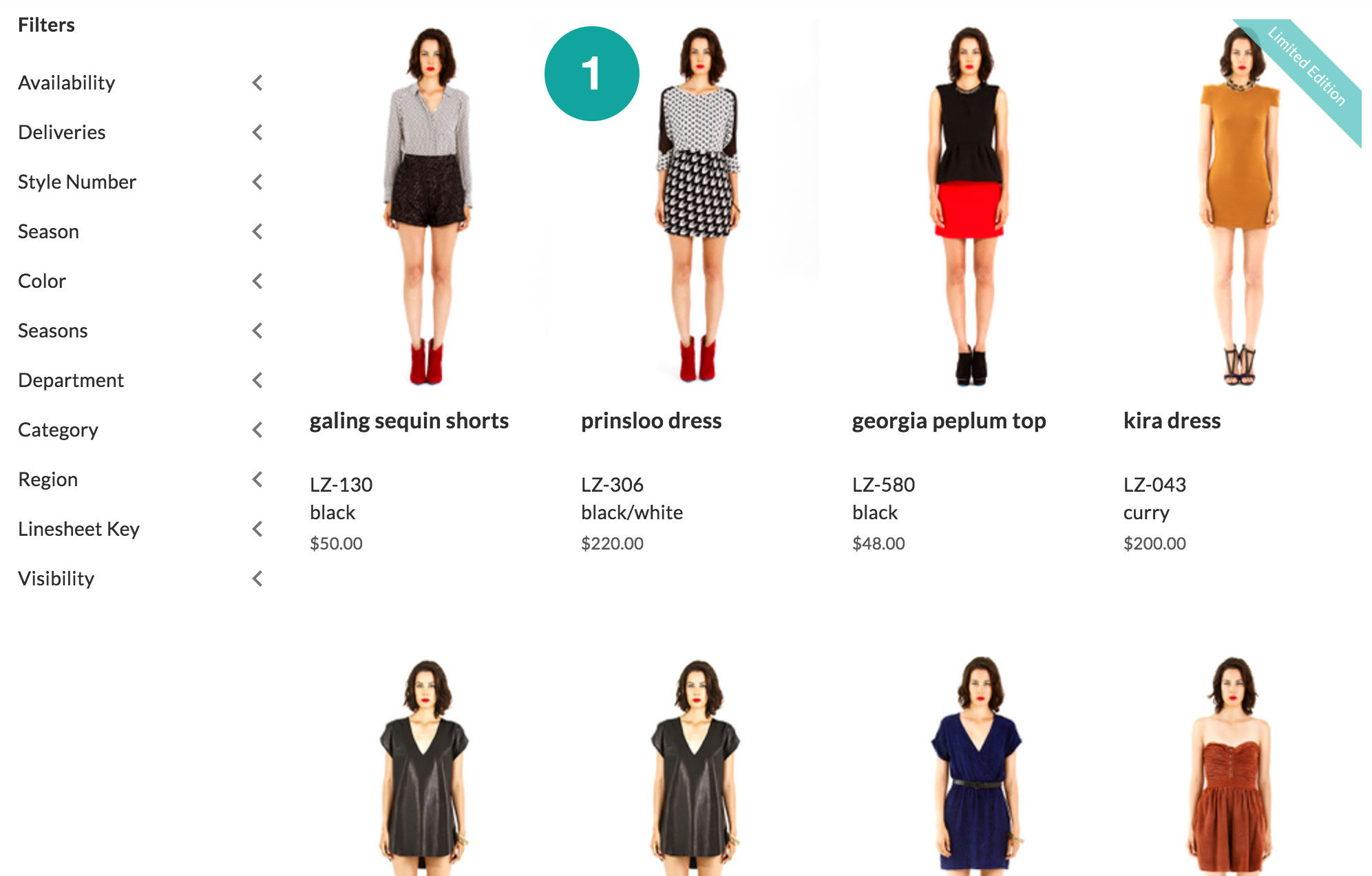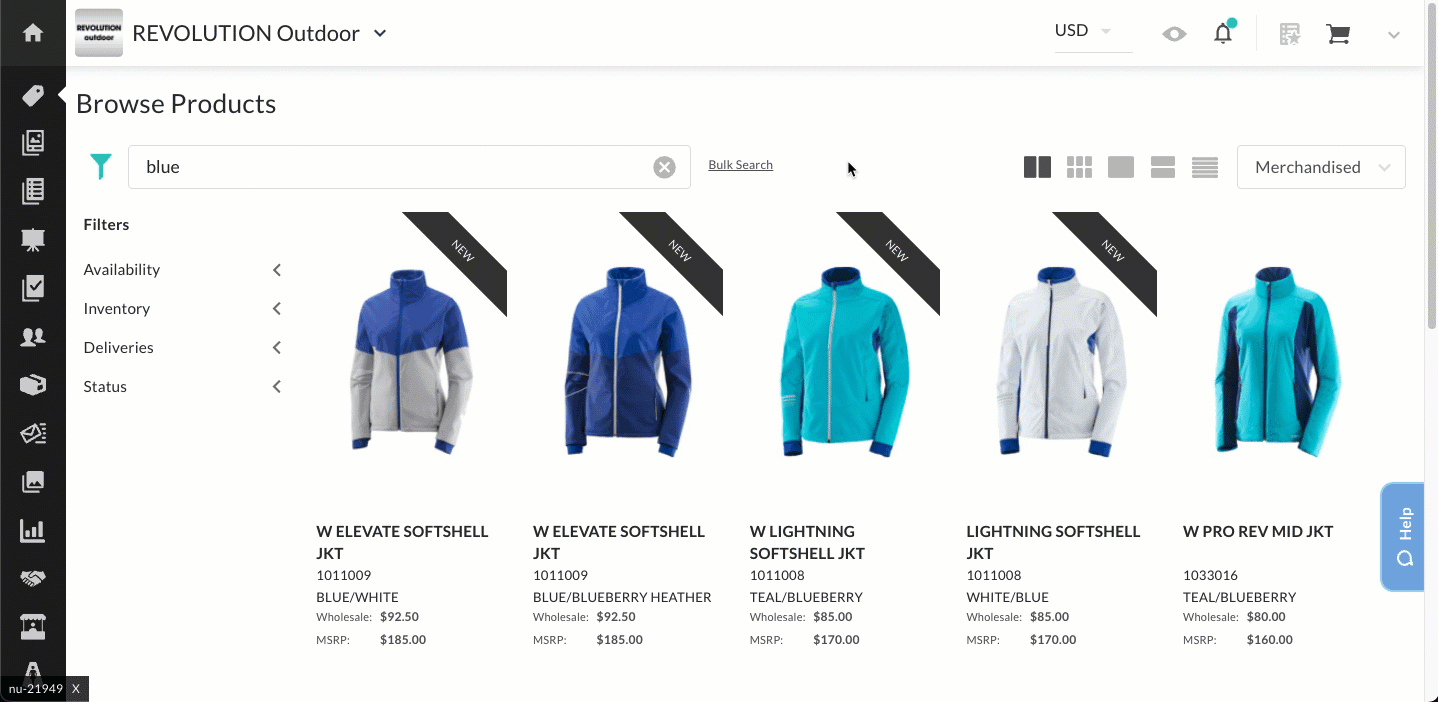 Note: Also see Product images overview.