Follow the instructions below to correctly format your product imagery.
NuORDER Image Specs 
Resolution must be 72dpi 

Images must be a minimum of 500 x 500 pixels

File types must be JPG or PNG


Must be saved in RGB color space

Images should be compressed to be in the 100kb - 400kb range

Exact dimensions are 700px (width) by 1100px (height), but not required.
Saving for Web out of Photoshop
Chances are you're already using Adobe Photoshop to prep your product images. The "Save for Web" feature is one of the best ways to achieve good image compression while maintaining quality. We've highlighted a few important factors to help you get best results.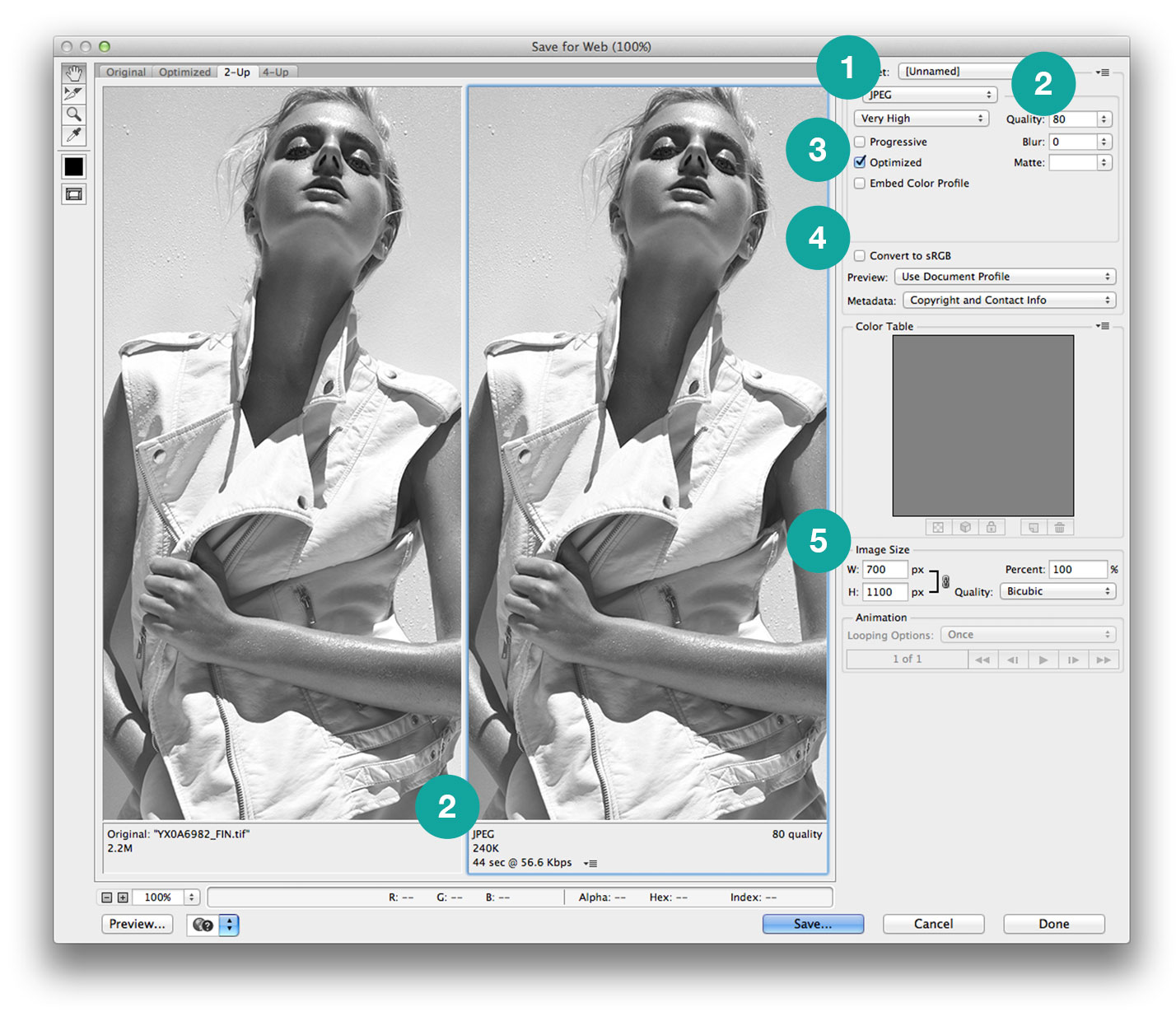 Be sure to set compression type to JPEG
Adjust the Quality range to affect the file size. Make adjustments until final file size falls within our ideal range 100kb - 400kb (Recommended Quality: 60 - 80).
Set JPEG type to be Optimized
Make sure your image is formatted as RGB. Converting to sRGB can sometimes bring file size down, but also can dull colors a bit.
Verify the size is at least 500 by 500 pixels
If you have a lot of images that need to get compressed and can't take the time to save individually, look into creating an action to convert them all as a batch.
Where Products Appear
We currently support a maximum of 4 images per product. Knowing the types, and where they appear throughout NuORDER, will help you better decide which ones to use where.
Image 1: Hero Image. Displays in all Galleries as the thumbnail image (All Products, Linesheets, & Recommend), the Product Details Pane, the Working Order, and PDFs (Order & Linesheerts).
IMAGE 2: Displays in the Product Details Pane, and 2 Image Per Product Linesheets.
IMAGES 3 & 4: Displays in the Product Details Pane only.
Product Details Pane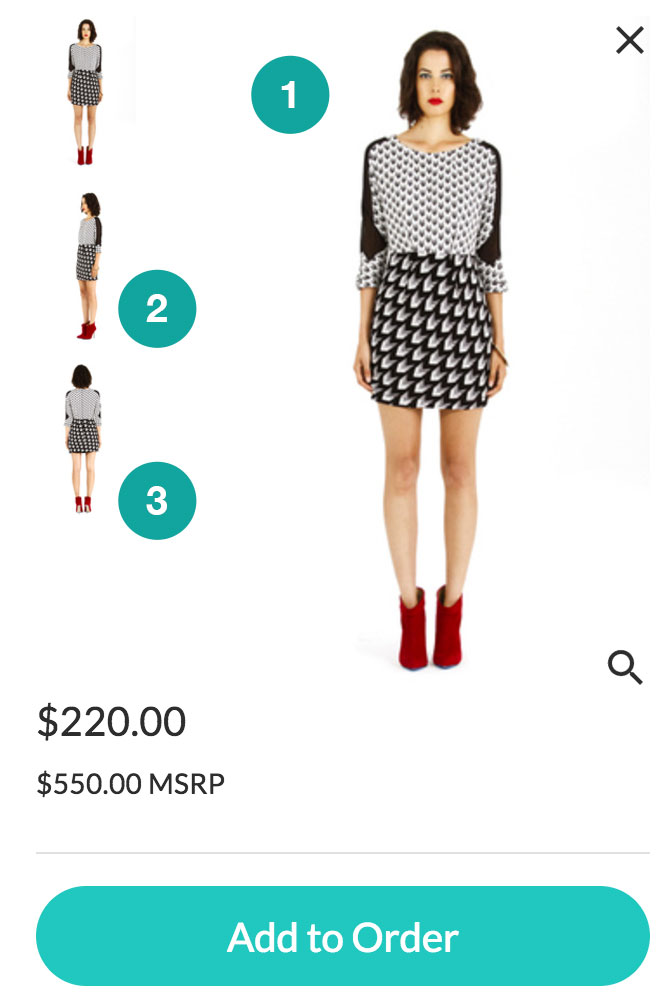 Linesheets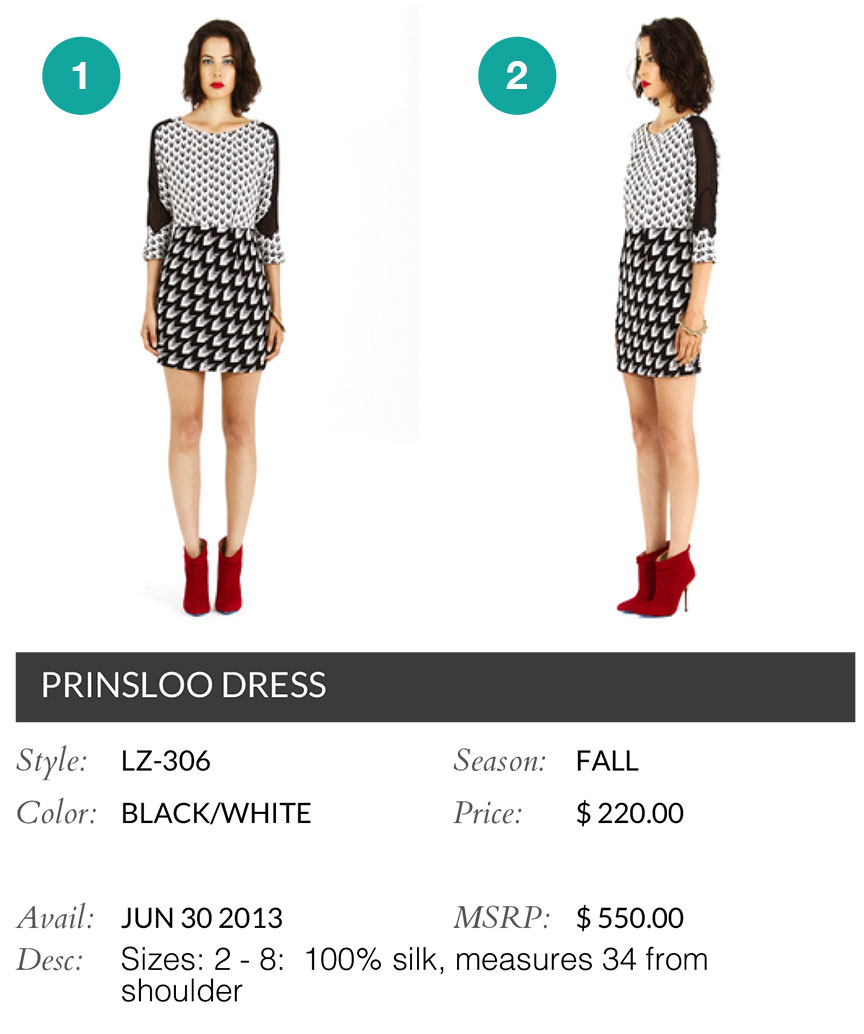 Orders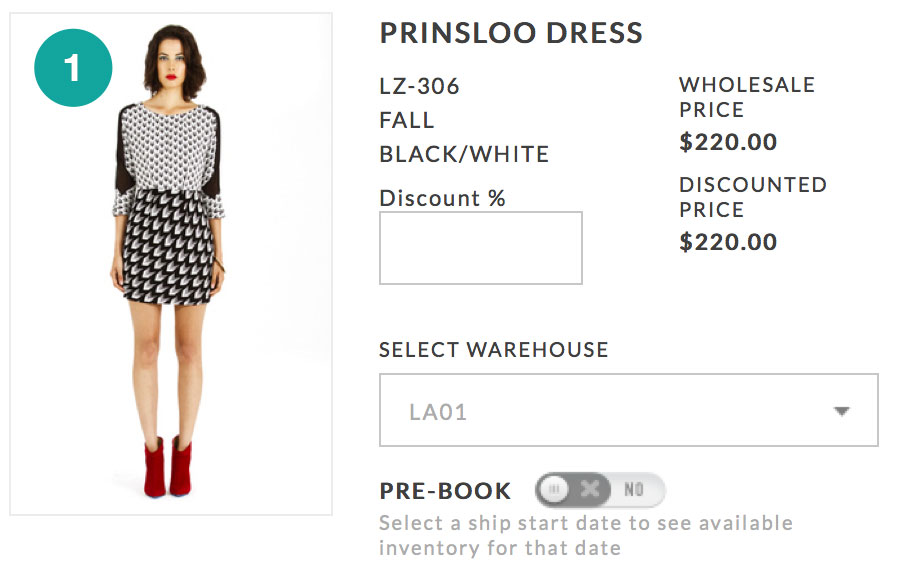 Galleries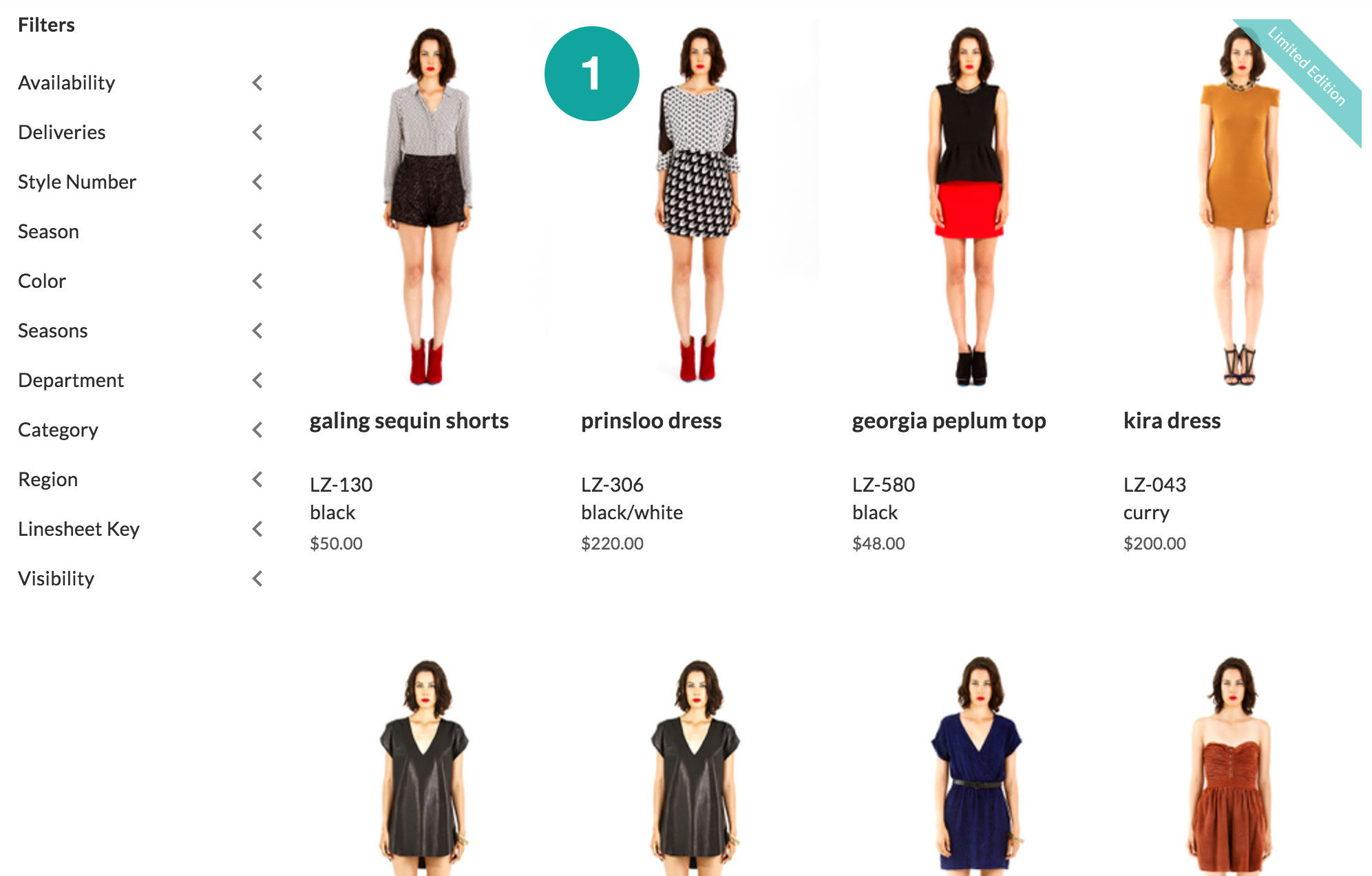 Image File Name Convention
To upload images in bulk, you must use an image file naming convention. Here's everything you need to know to get your image files ready.
Before you start, you must set up a custom "image naming profile" for your brand. Let us know if you already have a system for naming your image files -- we can usually work with it.
In order to link properly, we recommend that your image file names include the following:
Style Number & Color: This enables the system to identify which product to choose.
A Custom Suffix: This enables the system to identify the images position (e.g. the hero position, or positions 2, 3, or 4.)
It usually looks something like this:

Tips & Options for naming your files

The defining fields must be separated by an underscore or hyphen (so our system know where the style number ends and the color begins).
Style names, numbers, colors, and color codes must be an exact match to what is in the product data.
If slashes exist in your style name or color: substitute a hyphen or space in the image file name.
Image Linking Issues


Images didn't link how you expected?
Here are some common issues:
1. File naming convention doesn't match the one NuORDER set up for you.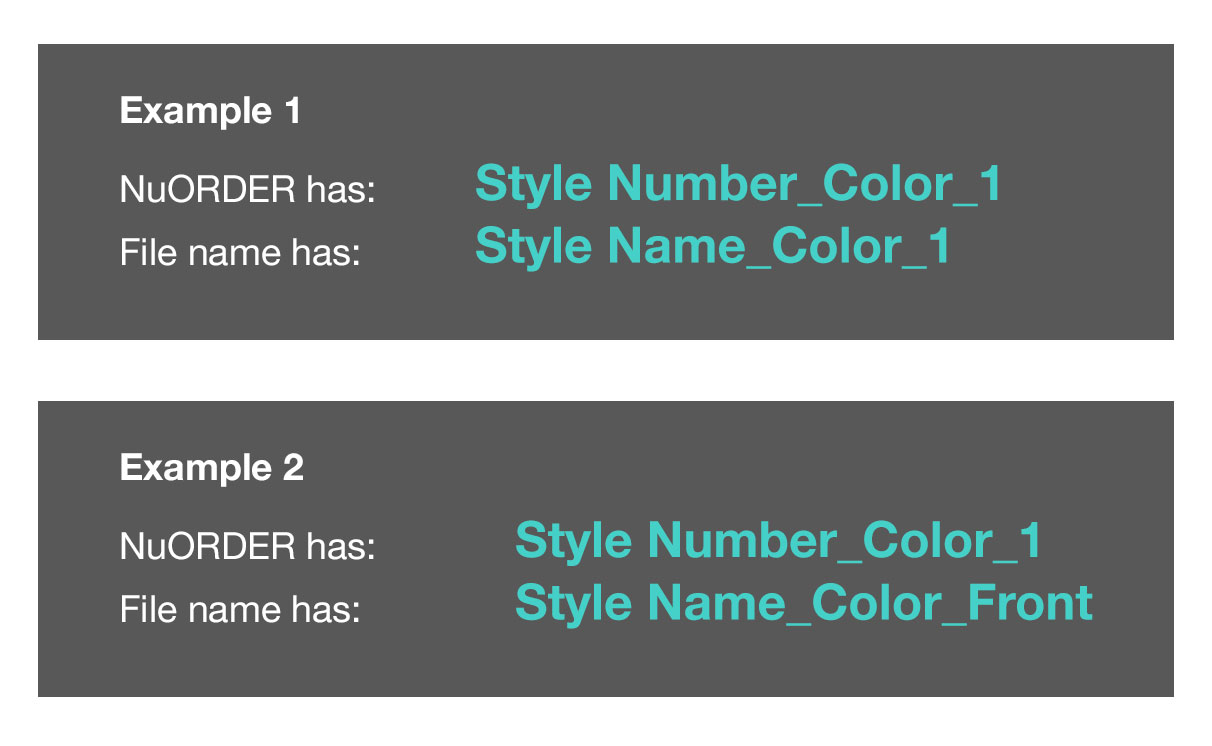 2. There is a typo or extra character in the file name that does not match the product data.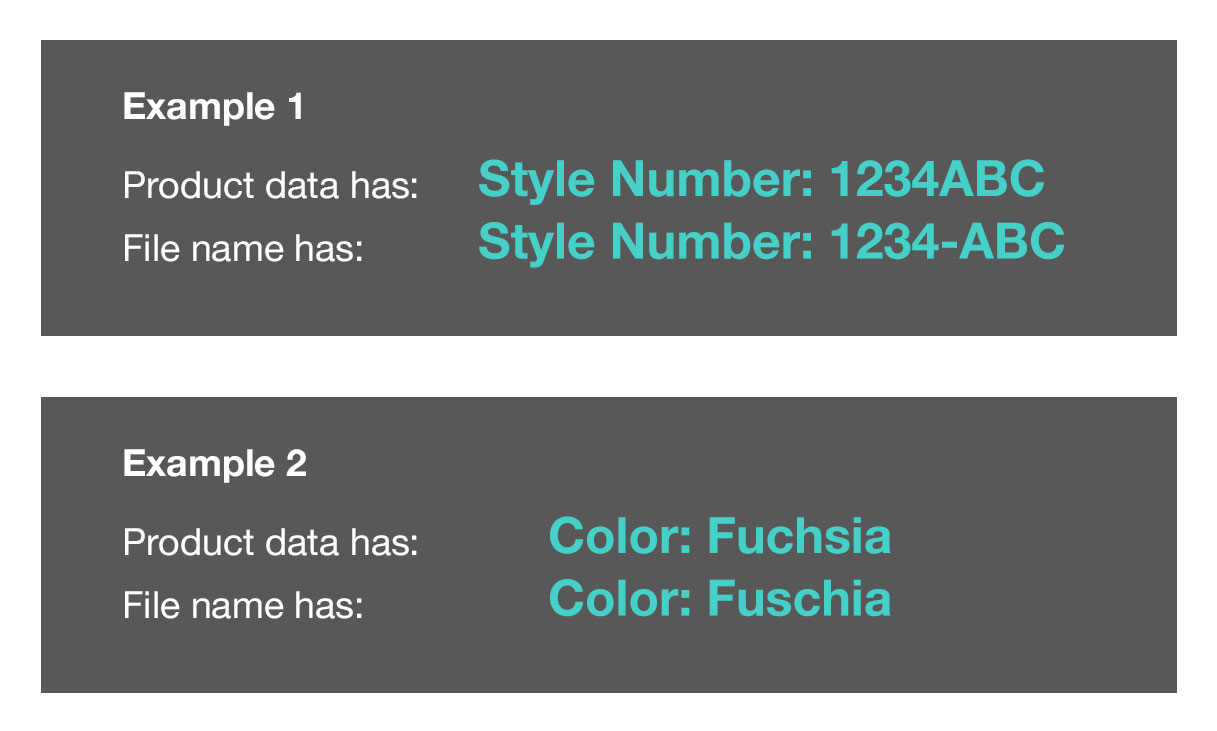 3. Product data does not yet exist for that image.
If you want your images to automatically link to products, you must upload the product data BEFORE uploading images. 
Product Imagery Help
Need help formatting or uploading your product imagery? Contact a hero at heroes@nuorder.com.