Overview
---
Custom Lists are a great way to send a customized linesheet with recommended styles to specific buyers. It can also be used to take notes during an appointment. You can easily send your buyer their selected styles with notes as a recap. These notes can be taken using the web app or our mobile app available for iPad and iPhone.
Getting

Started
---
Go to the linesheet your buyers are working from on the linesheets tab. To start creating a list with the retailer's selection, select the "star" icon under the product. This will prompt you to create a new list. Name the list by something you can easily reference. Some brands create different lists for each door and/or delivery. You can create as many as you'd like.
Continue adding products to the list by selecting the star icon. If you'd like to switch the list, you will find that option at the bottom of the screen when adding an item.
Once you're done adding to your list, access it by selecting the "Custom List" section on the navigation on the left-hand side.
You can further edit this list by adding images or line separators using the "+" icon in the lower left-hand corner. You can also merchandise this list before sending it out as a recap post-meeting.
TIP: Brands can take photos of what the retailer has either laid out or hung up on a rack during the appointment, and then upload them here as a recap.
If you'd like to share this recap with your retail buyers, feel free to click send at the top. These can be shared similar to the way linesheets are shared. Custom lists will only be visible to the person that creates them until they are shared. Once shared, they will only be visible to the creator and recipient.
Taking Notes on iPhone or iPad
---
There are a few ways to create a Custom List (previously known as "Recommendations") on the app:
From Products:
From the product gallery, select a product and tap the "Star" icon
A "Choose List" modal will display. You can:
Select an existing Custom List
Select an existing Linesheet (available only if Linesheet editing permission is enabled)
Create a new Custom List.
For this example, let's create a new Custom List by tapping the "+" icon.
Enter a list title and description, then hit "Save"
Your new custom list has now been set as the "Active List." You can add products to the list by tapping the "Star" icon on any product.
Tap on the "List" icon (next to the Cart) to quickly navigate to the active Custom List
Select the "More Options Kebab" will activate additional Custom List actions (e.g. Send Custom List, Add All items to Cart, Organize Items, etc)
Selecting "Organize Items" will make the product cards draggable, so you can easily rearrange them as you wish.
From Custom Lists (menu):
Another way is to navigate from the Menu > Custom Lists
Select the "More Options Kebab"
Select "Create Custom List"
Enter a name and description of the new custom list and hit "Save"
Now, your new custom list has been set as the Active List. Go to the Product Gallery or Linesheets and start adding products to your list by tapping on the "Star" icon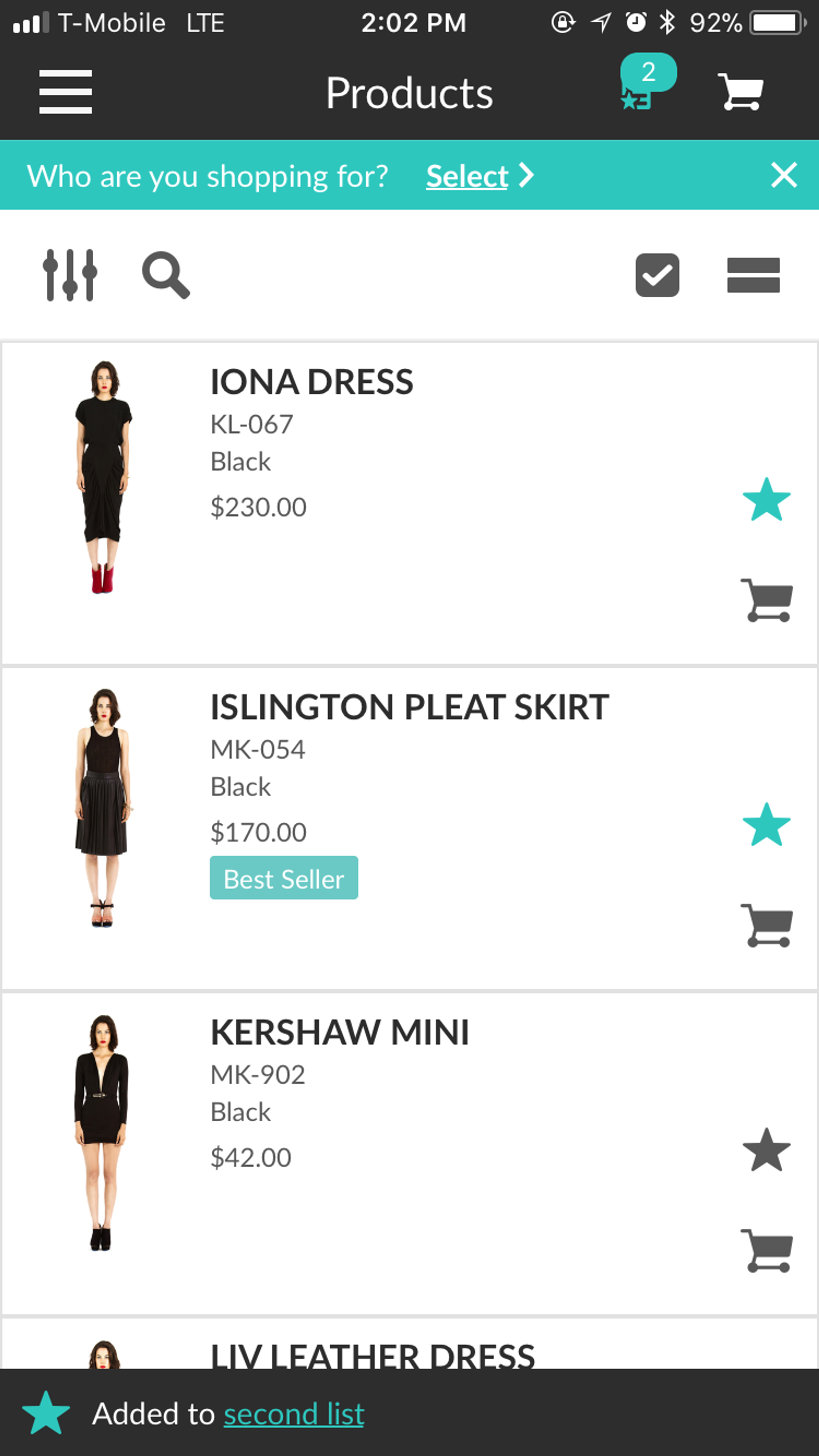 Up Next
---
Next, let's take a look at sending Sending a Custom List.
If you have any additional questions about filling out this template, please contact heroes@nuorder.com for assistance.