Reps and buyers can download an ATS Report directly from a Linesheet or Custom List to easily see inventory in stock and to help drive buying decisions.
Note: ATS is only available for brands who have uploaded inventory.
From the left navigation menu, go to Linesheets (aka Catalogs) or Custom Lists. Open the Linesheet or Custom List that you'd like to send to your buyers and select Download in the upper-right corner.

In the Download screen, select ATS Report and then choose a template: ATS Report CSV, ATS Report XLS, or ATS Report XLS w/Images. Select Download.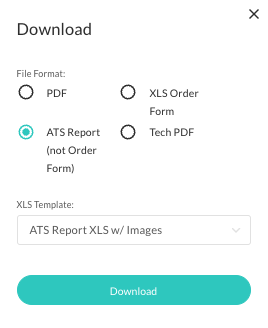 Use the Quantity column in the downloaded spreadsheet to review the available units for each item in your Linesheet or Custom List.