In the orders tab, you will notice there are eight order status levels: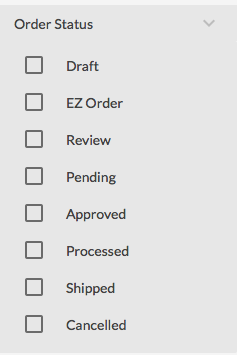 Most, but not all brands use them like this: 
1. EZ Orders: EZ Orders are convenient way to send out curated order forms to your Buyers. The Buyers simply need to fill in quantities and submit. EZ Orders will remain in this tab until they're submitted.
2. Draft: Unofficial, in-progress orders. Draft orders can be edited, re-saved, deleted, or submitted as official orders. If your rep sends you a draft order, it will also show up here for you to take a look.

3. Review: Orders that you (the buyer) has placed yourself. You can edit these orders, and they will stay in "Review" until they are approved by the brand. Once the order has been approved, the order will move to "Approved".

4. Pending: Orders placed by a sales rep that have not yet been approved. 
5. Approved: Orders that have been approved and are ready for processing. 
6. Processed: Orders that have been processed. This usually means it has been entered in the back office system.
7. Shipped (optional): Orders that have been shipped. Some brands like to use this status level, while others stop at "Processed". 
8. Cancelled: Orders that have been cancelled. These orders are locked and cannot be edited or deleted by anyone. Orders remain in "Cancelled" for your reference.
*Helpful Tip- Orders can be exported to an Excel document or a PDF document from all sections.