Our bulk order feature will allow you to place orders against multiple doors in a single order.
You will need to enable the "Allow Bulk Orders" setting for the companies with multi-doors. If you need to make a bulk update to companies with multi-doors, then you can utilize our API to make this update. The attribute is called "allow_bulk" and the accepted values are "True, False".

To Access Company Details
● Navigate to Contacts on the left menu bar.

● Search for the Company.

● Edit the company.

● Toggle on "Allow Bulk Orders".
When in the products tab of the order form, you can use the bulk order feature by selecting the + Add Sizing icon. "Bulk Units" will determine the maximum units available to purchase for all locations.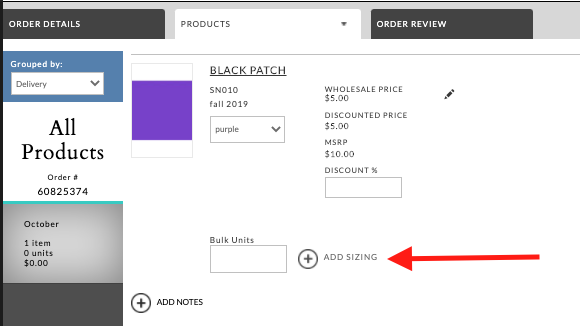 A table grid will display with multiple doors. You will be able to submit units against all locations combined or by different locations. Locations are based on the provided company details.

When the order is submitted, the order will split into separate orders and a suffix will be added to the original NuORDER Order Number (i.e., 1234567-1-A, 1234567-2-B, 1234567-3-C).