Managing Cancelled Styles
When a style has been cancelled by an Admin, it will be noted in NuORDER. Begin by looking for the teal dot on the Orders icon in the main navigation. Hovering will open a link for "Orders with Cancelled Styles" showing a count of orders with cancelled styles.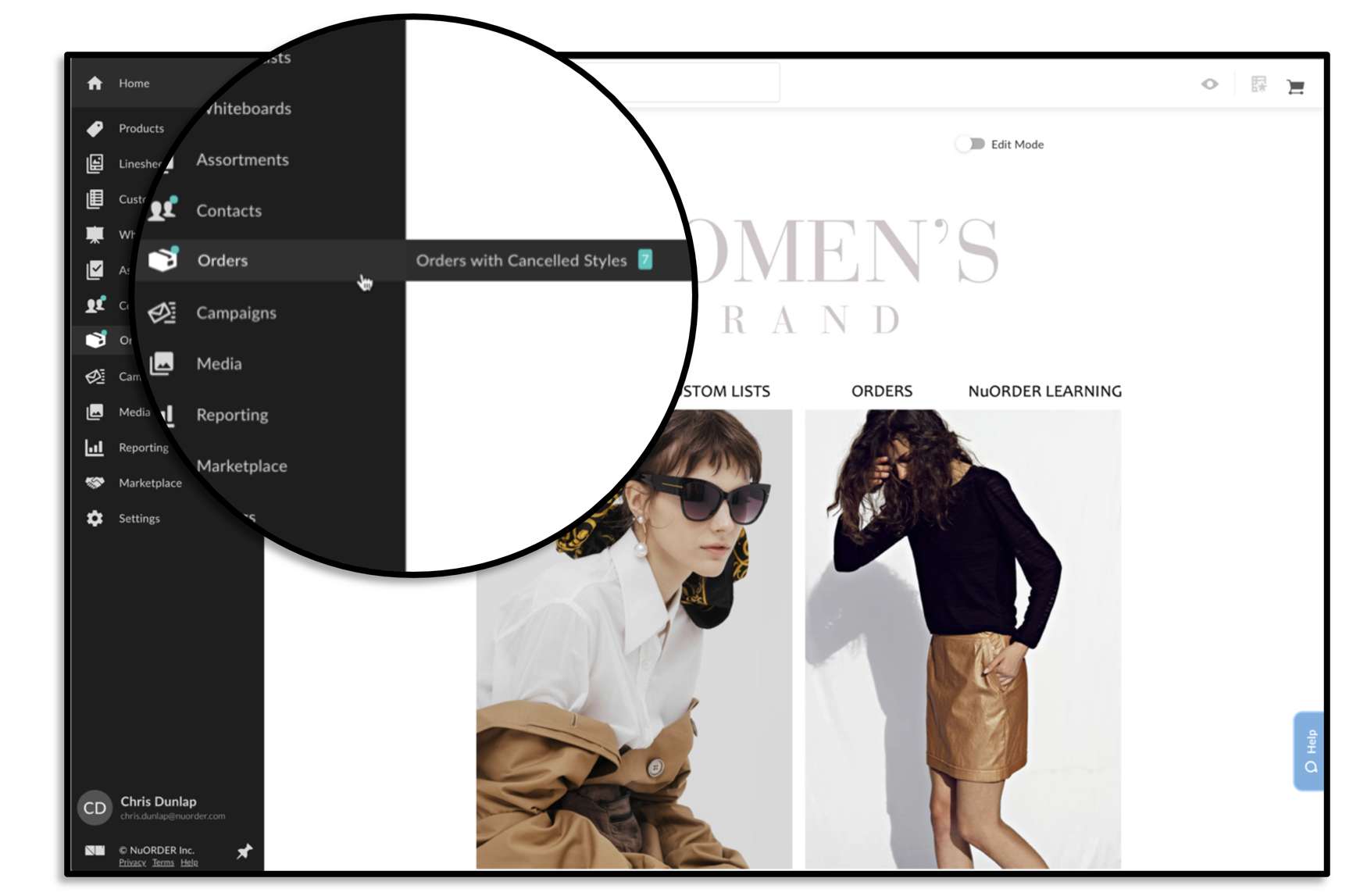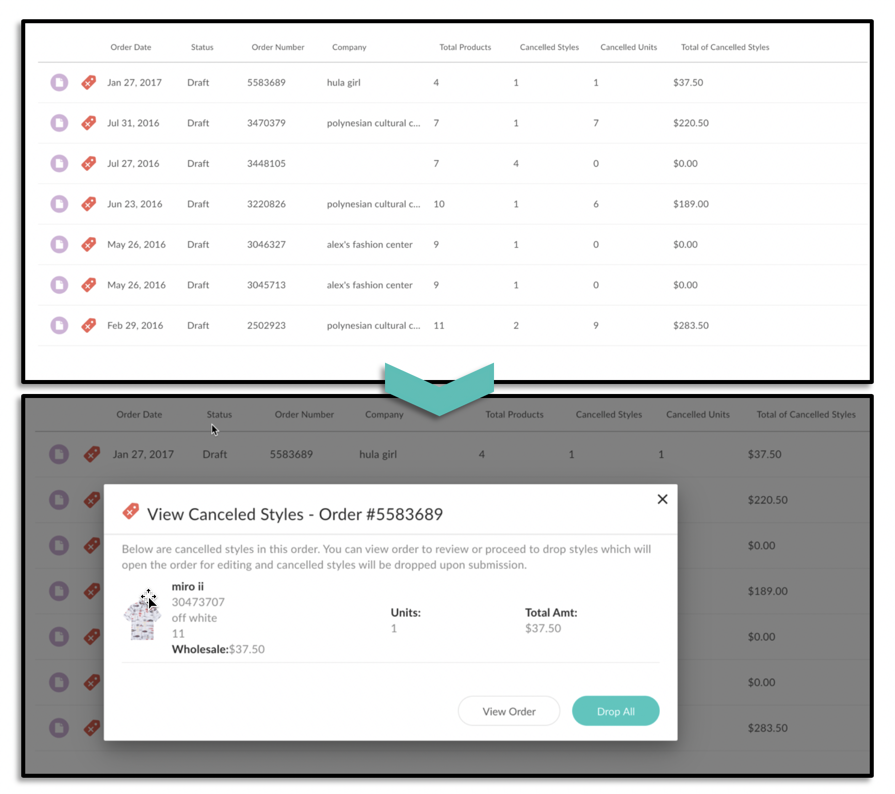 You can Bulk Drop OR Drop Individually depending on your need.
Viewing Orders with Cancelled Styles
---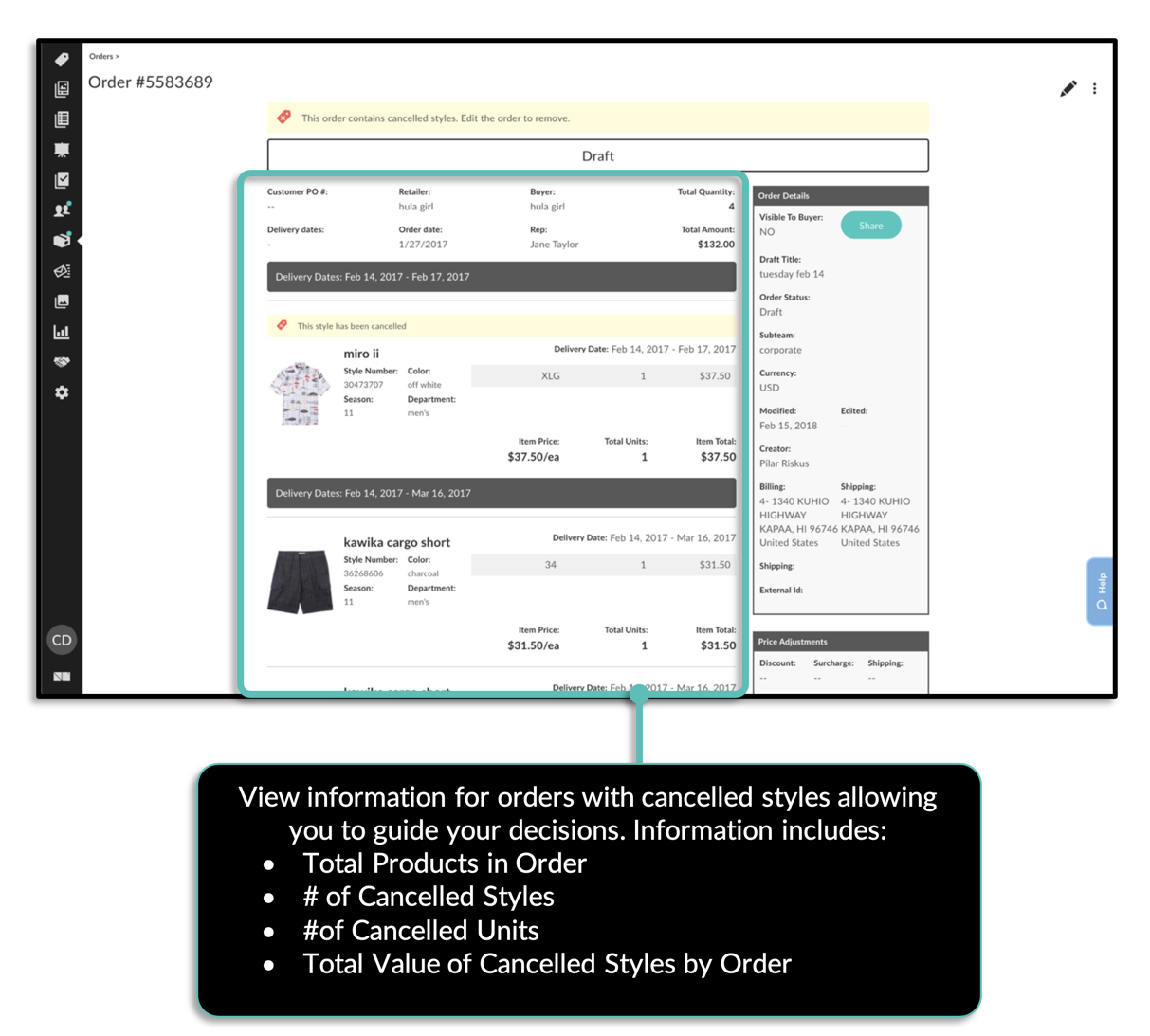 Dropping Cancelled Styles
---
You can drop your cancelled styles from affected orders and communicate that change to your buyer(s).
The next window will give you the options to Include custom message in affected orders and Cancel/delete orders only containing cancelled styles.
Creating a Custom List to Re-Assort Cancelled/Reduced Orders
---
Begin by filtering your orders by the company.
In our example, Cool Casuals only wants to ship their April to June orders starting in July. Filter to show only the orders that are being delayed.
Using Custom Lists to Re-Assort Delayed Orders
---
Since these orders are being cancelled and pushed out, we have the opportunity to present these orders with a new assortment and delivery schedule using Custom Lists.
Begin by selecting the orders, and from the Actions menu, download Full Order Details. This will give you a full excel export of everything on the order.
Gather the style numbers from your order export. Alternatively, you can also bulk download PDFs of your order for a visual representation.
Next, begin crafting a new Custom List with the styles from you cancelled orders. You can start by searching for the styles number from your products page. You can use our Bulk Search function to search multiple styles at once.
For more information on Bulk Search contact your admin user to get it set up.
Select your styles and add to your Custom List. Once they are added, go into your Custom List and begin to assort. Make sure to add page dividers or images to help recreate the new order flow
For more information and instruction, please check out our webinar on this topic HERE.