Note: Not all brands offer the product gallery.
---
In the All Products gallery, you'll see everything in the brand's collection. As you scroll, more products will load into view.
Key features
Below are a few key features for getting around this page (moving from left to right).
Filters: Filter your product view by season, availability, department, or categories. Different brands will have different filters available.
Select All: Select the check box on an item to see a Select All option. Click Select All to select every item in the product gallery. Click the circle again to deselect all.
Actions: Add the selected items to your working order, a list, a linesheet, or export.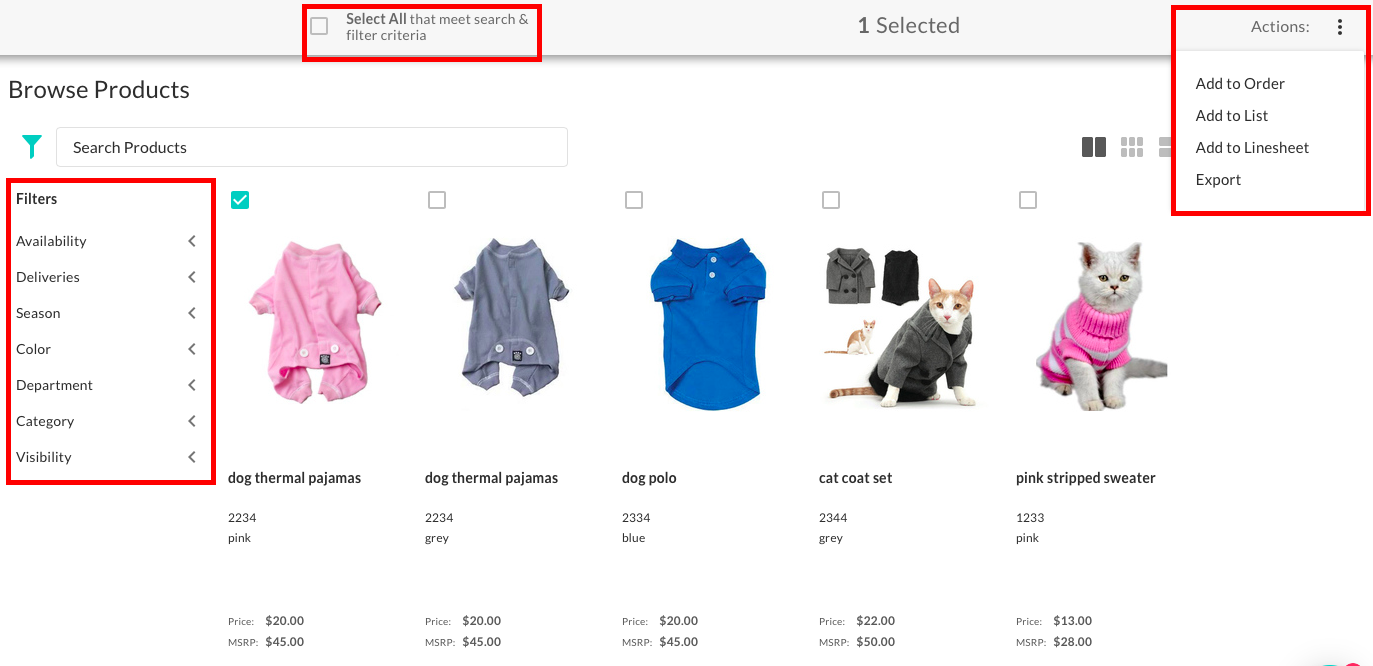 Search: Search for products by name, style number, or color.
Working Order: Review, adjust, and submit your order here. The number next to the working order indicates how many items are in your current order.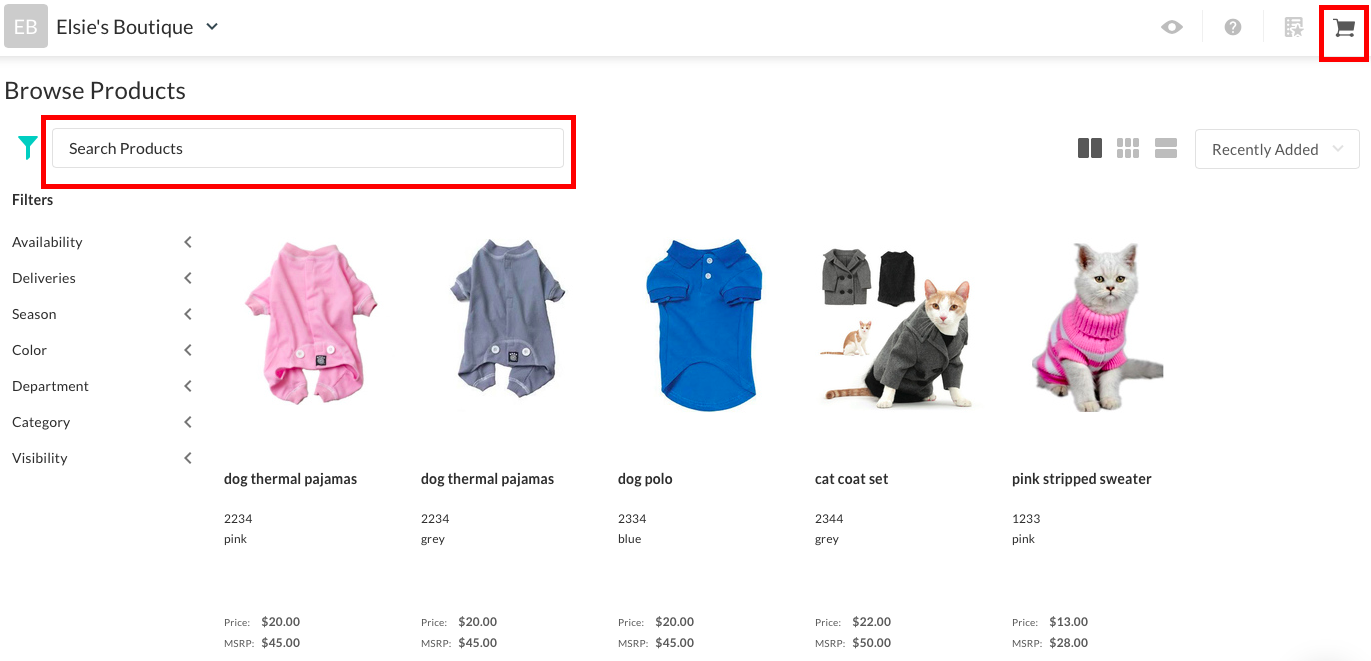 View options
Navigate the All Products gallery with multiple view options. In any view, select a product to see more details and images.
| Icon | View | Description |
| --- | --- | --- |
| | Panel | The default option is Panel view. It offers columns of images and key product details. |
| | Small Tile | If you want to scroll through many products at a time, select Small Tile view to display a grid of small product images with condensed details. |
| | Large Tile | Large Tile view showcases product images in an expanded size, so you can see those details without having to zoom in on each image. With this expanded size, Large Tile is not available for mobile. Instead, we recommend Panel view for mobile devices. |
| | Card | Card view offers a horizontal display of small product images with key details to the right of each image. |
| | Row | If you prefer to see products in a single list, select the Row view. |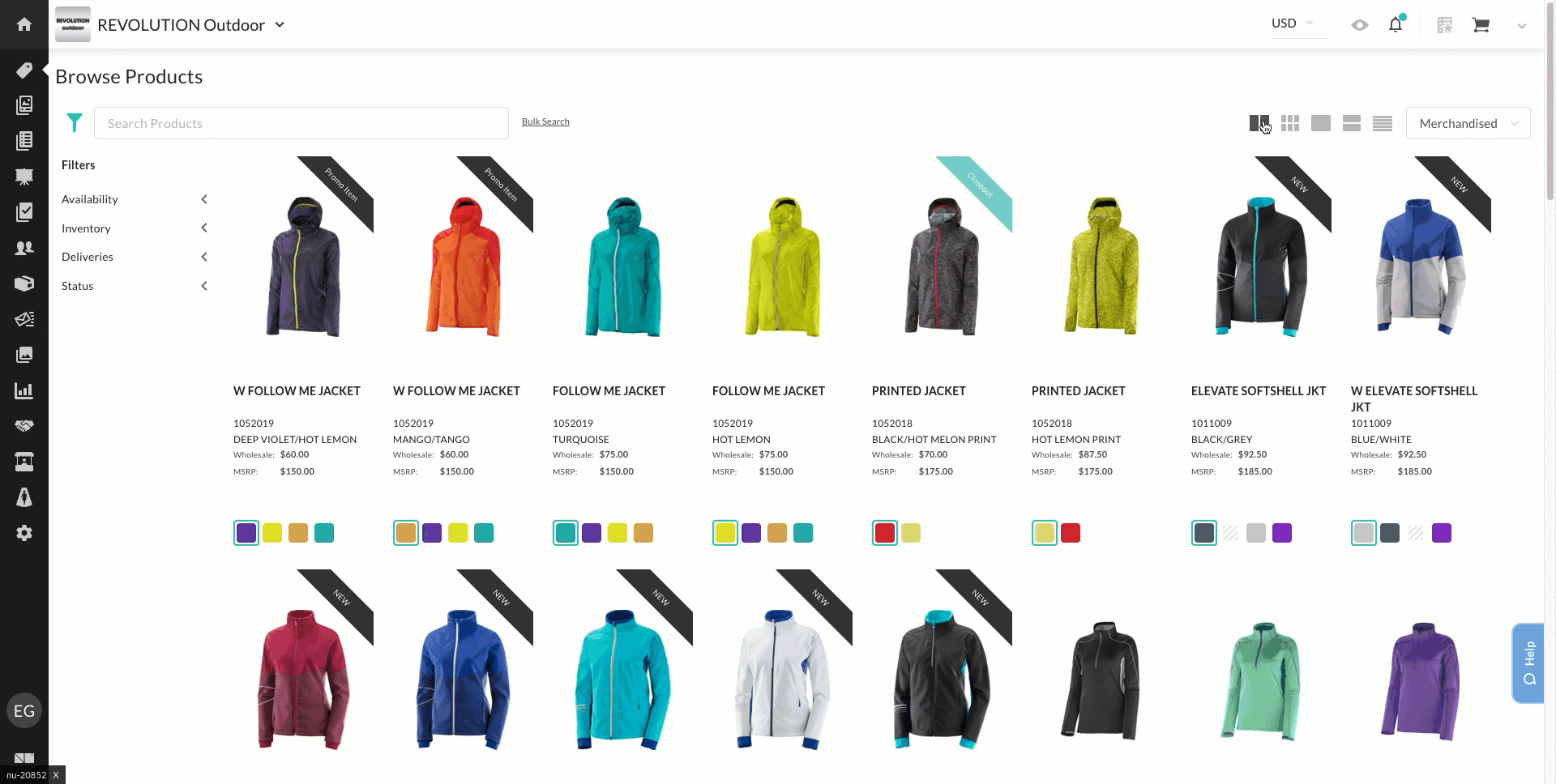 Product details
In the product gallery, click on an item. The product details will appear in the details panel to the right.
The product details are divided into sections. These sections may vary depending on brand preferences.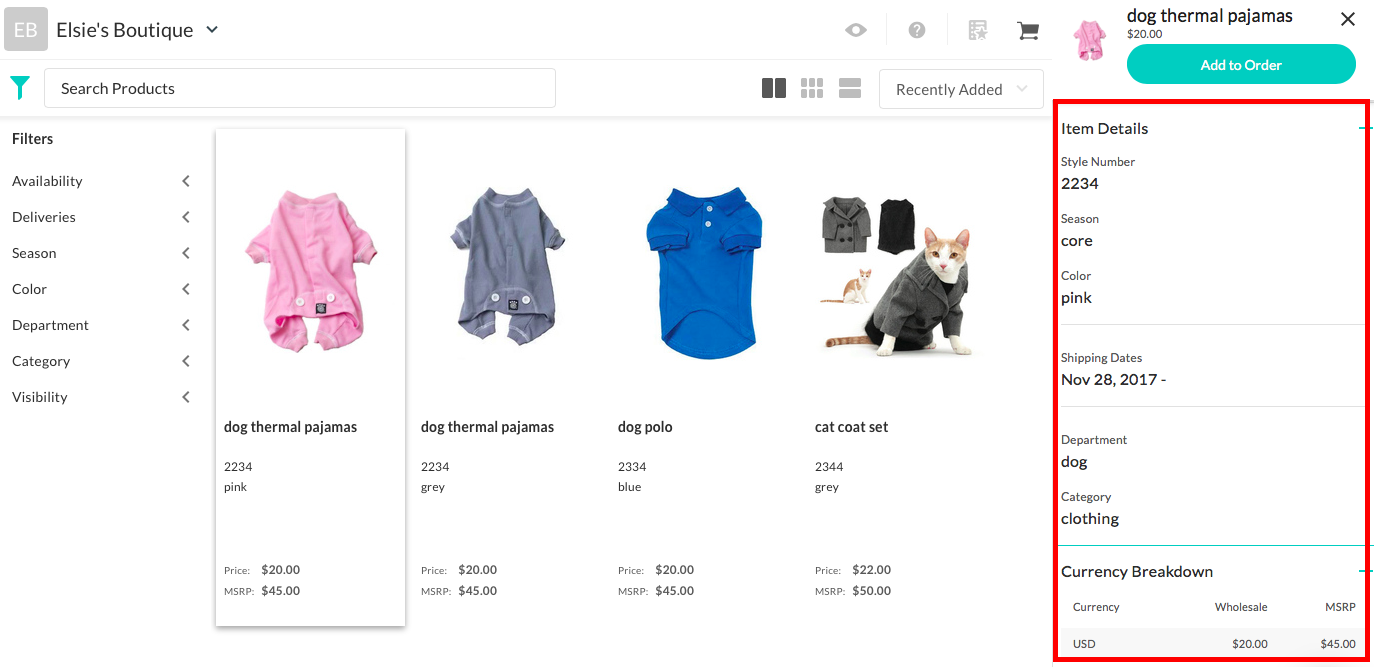 General Info: Item name, style number, department, division, wholesale price, MSRP price, season, category/subcategory, color code, color, and additional colors.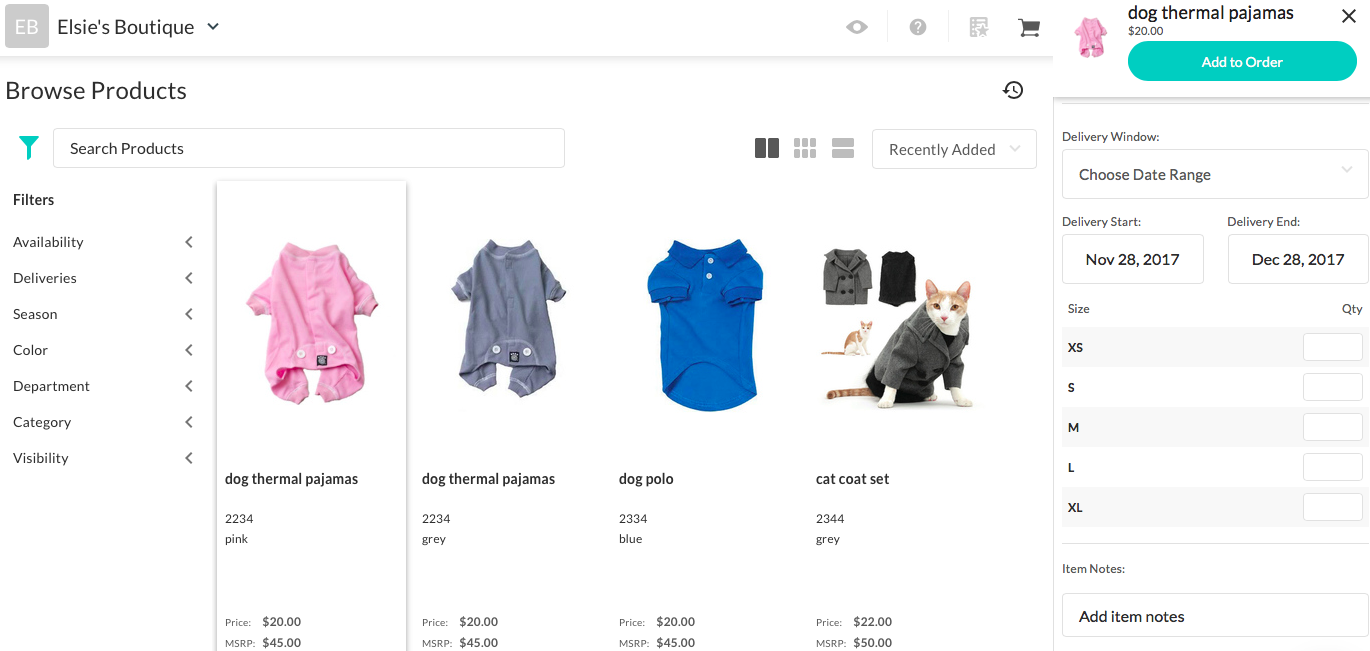 Availability: Availability/ship dates and order closing date (the deadline to get orders in for this product).
Note: If enabled in the brand's settings, the Availability filter can be limited to only your assigned warehouses.
Available Sizes: If the brand published stock levels, you'll see the quantity available per size.
Add Product to your Order with Delivery & Sizing: If you want to add a product now, select your ship start and ship end dates, as well as quantities from this view. You can also do this in your Working Order.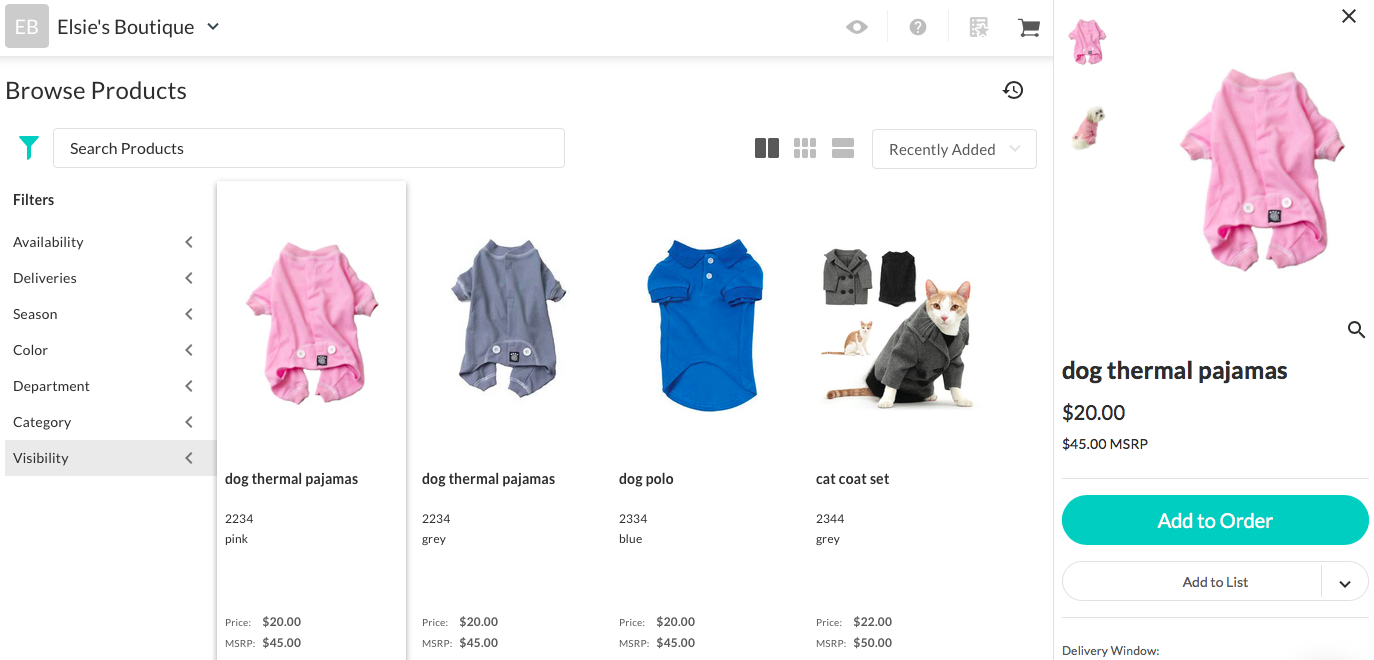 Product images
Hover over a thumbnail to see an additional view of the product. This is the second image in the list of media stored for the product, so long as it's not a 3D image, 360 view, or video. Select a thumbnail to see additional details and all available media.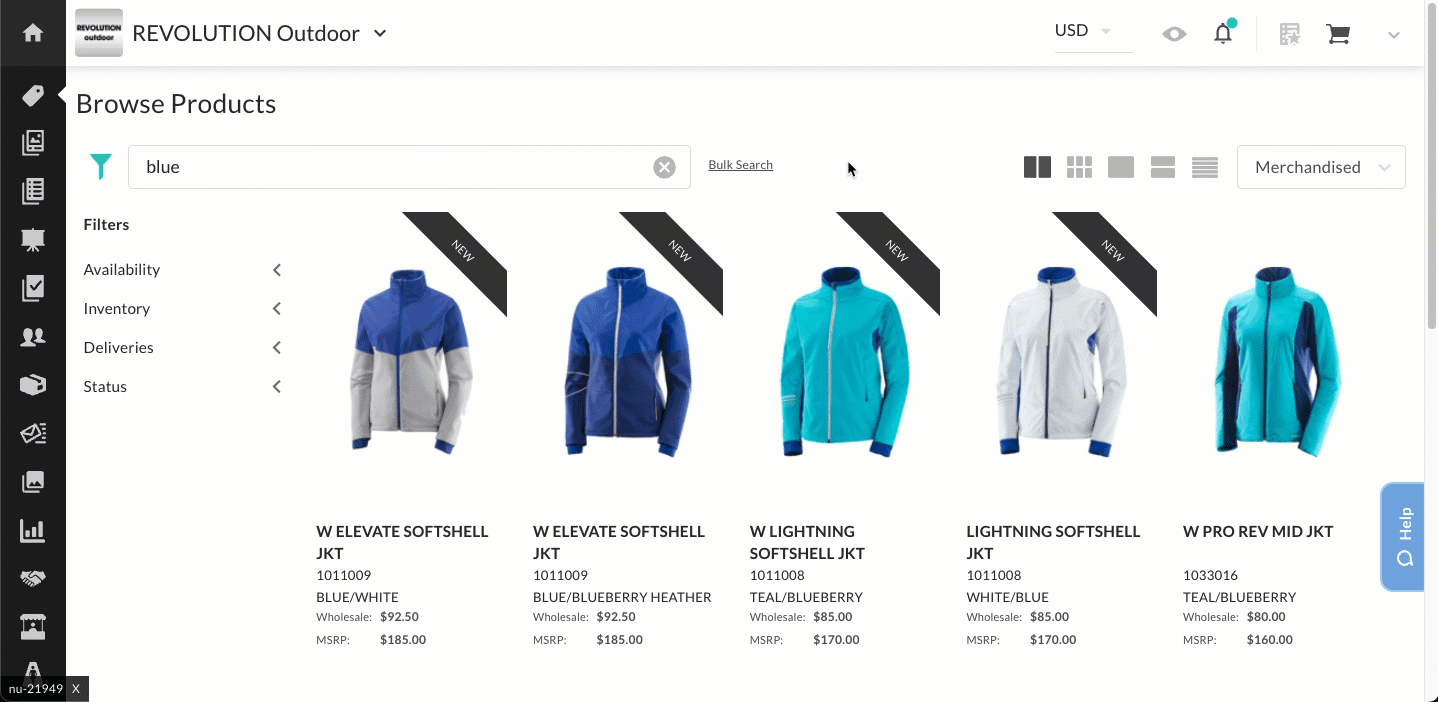 Want to zoom in? Click the magnifying glass or click the displayed image in the product details section. Use your mouse's scroll wheel to zoom in and out and click and drag the image to see more.