The Sync Button
When you are working offline, your orders, linesheets, drafts, and new contacts will be saved locally. When you SYNC, you send everything to the server to be processed.
Tap the SYNC button to view items you have created during your offline session.
You'll be able to view 2 status lists...
Pending:
Items in your queue that are waiting to be sent to the live server. No emails have been sent to buyers (or you) at this time.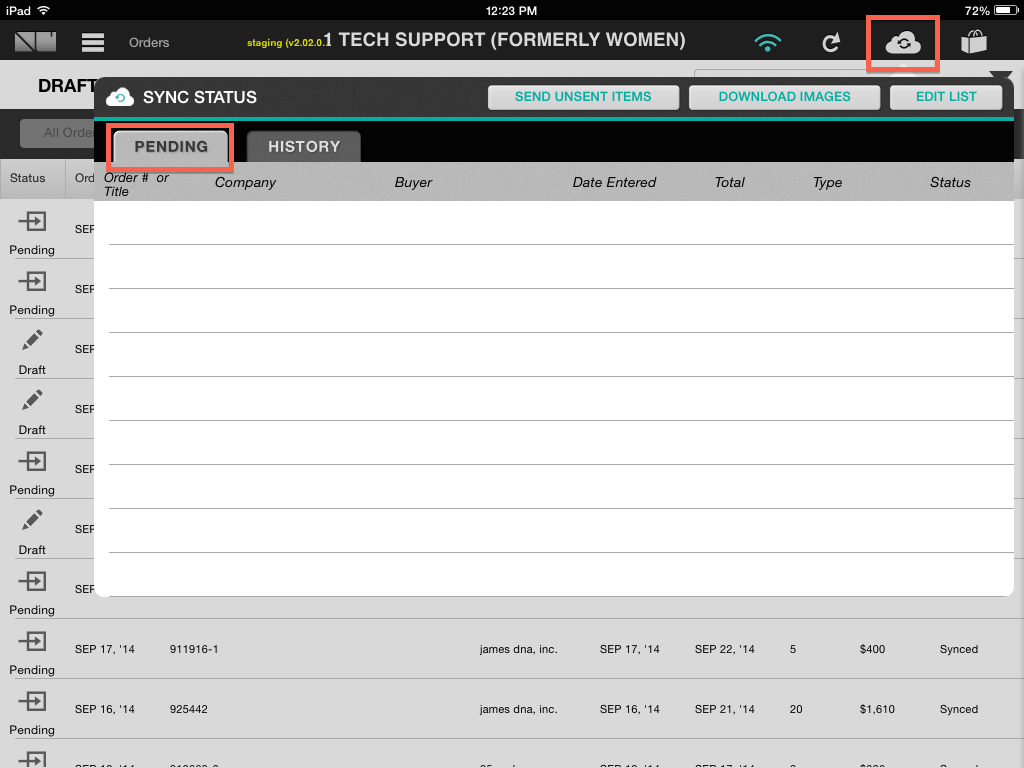 History:
Items that have been sent successfully. If it says "SENT OK," it means any corresponding emails have been sent to you and the buyer. You'll also be able to access these items on the web app.

Sent items will remain in the HISTORY for your reference until you delete them.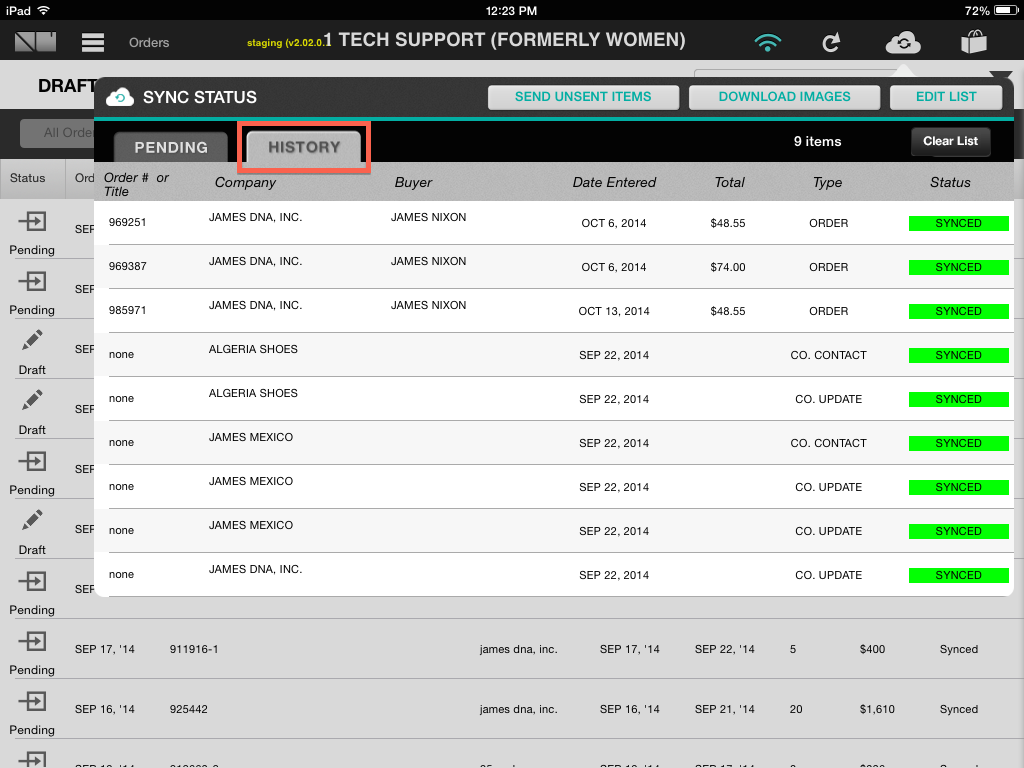 SEND UNSENT ITEMS.
To sync account...
1. When you are back online tap the SYNC button.
Hit SEND UNSENT ITEMS.
As items are sent, they'll disappear from thePENDINGlist and move into HISTORY. You'll also get confirmation that the item was sent successfully.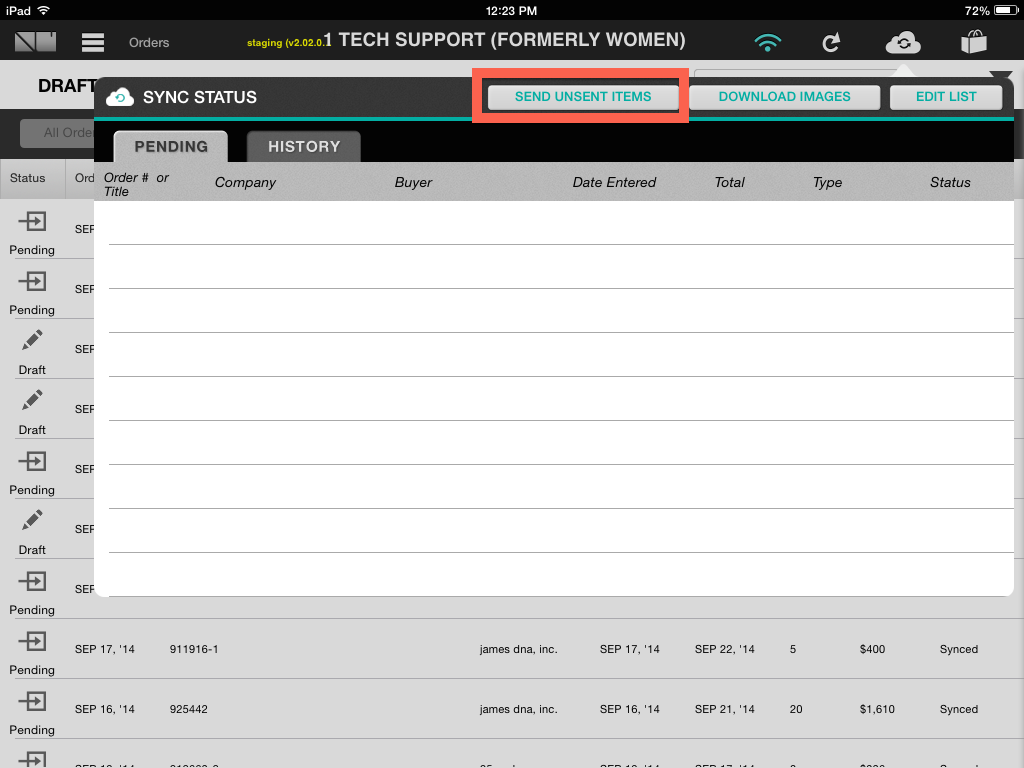 TAP TO REVIEW. This means there was an error.
Sometimes an item you've created on the iPad (usually an order or contact) will receive a sync error...
You'll know this because the item will remain on the PENDING list with a yellow flag that says TAP TO REVIEW. The corresponding emails for this item have not been sent.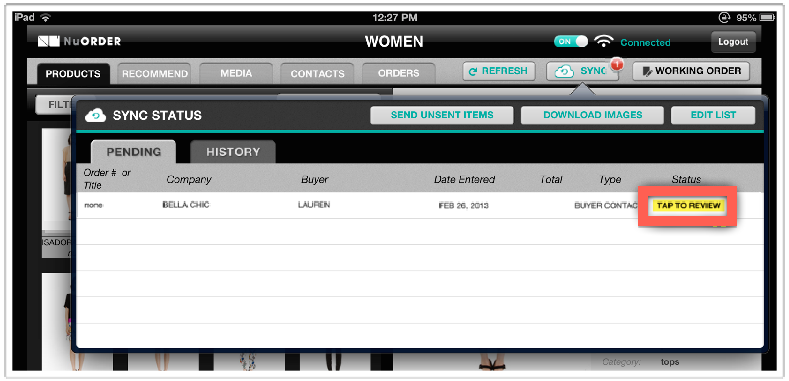 Tap the entry to see what kind of error occurred. You'll be able to re-open the order, make any necessary changes, and resubmit it to the server.
EDIT LIST.

Need to cancel an unsent item before you sync?
Want to tidy up your sync history? Meet the EDIT button.
1.Tap EDIT LIST. This will activate the lock/unlock switches for each item.
2.Hit a switch to unlock an item and enable the DELETE button.
3.Use the DELETE button to remove the item from this list. If the item is still PENDING, it will be removed from the queue and deleted forever.